Get Your Alabama Insurance Adjuster License!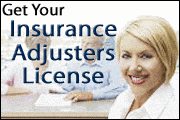 Becoming an Alabama Claims Adjuster can be an appealing profession that can be quite lucrative.
With no exam required, the Alabama adjuster license is one of the easiest adjuster licenses to obtain.
AL Adjuster License Requirements:
19 years of age or older

Fulfill one of the following qualifications:



Be a full-time salaried employee of a licensed adjuster

Be a graduate of a recognized law school

Have experience, special education or training in the handling of loss claims under insurance contracts of sufficient duration and reasonable extent to make him or her competent to fulfill the responsibilities of an adjuster



Be trustworthy and of good character

Have and maintain an office accessible to the public and keep therein the usual and customary records pertaining to transactions under the license

Complete the Alabama Insurance Adjuster License application and submit with applicable fees

No Continuing Education is required
Non-Resident Alabama Insurance Adjuster License
Non-resident applicants for a AL Adjuster License must submit an application. Please visit the National Insurance Producer Registry for more information on Alabama non-resident licensing.
NOTE: Alabama grants reciprocal licensing privileges to anyone holding a license from their home state, or, if their home state does not require a license, from any other state.
Alabama Department of Insurance - Licensing Division
Address: 201 Monroe Street, Suite 1700 | P.O. Box 303351 | Montgomery, AL 36130-3351
Phone: 334.241.4126
Website: http://www.aldoi.gov
---
Recommended Courses and Available Alabama Adjuster Training
---

AB Training Center provides approved AL Adjuster training and materials needed to obtain your Alabama Insurance Adjuster License. Simply select from the recommended courses below, or search under "Licensing" in the search box thereafter for "Insurance-Adjusters".