Searching for specialized annuity training? Then you've come to the right place!
ABTrainingCenter.com offers Certified Annuity Specialist® (CAS®) training and certification courses for those individuals interested in earning the prestigious Certified Annuity Specialist® designation.
The Certified Annuity Specialist® (CAS®) designation demonstrates the advisor's expertise and commitment to helping individuals work towards their retirement goals with annuities as a suitable option.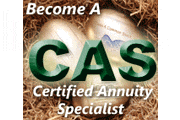 The Certified Annuity Specialist® (CAS®) covers all of the traditional aspects of fixed-rate and variable products; a detailed part of the materials also covers the different titling options and the estate and income tax ramifications of each.
This program will open your eyes to a number of products/riders that you never thought existed. Your clients will appreciate the special knowledge and insight you bring to the table as a CAS®.
CAS® is fully accredited and is the oldest designation in the annuity industry. It is the only such designation recognized by dozens of Fortune 500 companies.
Recommended Courses and Available Training Options
ABTrainingCenter.com offers the certification course for earning the CAS® designation. To pursue the CAS® designation, select the recommended course below or search under "Designations/Certifications" in the following search box for "CAS® - Certified Annuity Specialist®".