Become A Certified Fund Specialist (CFS)!
Searching for mutual fund training? Then you've come to the right place!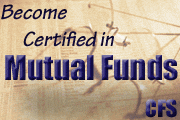 ABTrainingCenter.com offers CFS training and certification courses for those individuals interested in earning the prestigious Certified Fund Specialist (CFS) designation.
The Certified Fund Specialist designation demonstrates the advisor's expertise and commitment to understanding mutual funds - to able to evaluate and compare financial measurements and benchmarks of the funds when constructing a portfolio.
Few advisors and brokers really understand how funds interact with other parts of the portfolio or how this investment vehicle should be analyzed.
CFS is fully accredited and is the oldest designation in the mutual fund industry - created in 1992. Since, over 9,000 members of the financial services community have gone through the program.
Recommended Courses and Available Training Options
ABTrainingCenter.com offers the certification course for earning the CFS designation. To pursue the Certified Fund Specialist designation, select the recommended course below or search under "Designations" in the following search box for "CFS - Certified Fund Specialist".