Searching for specialized tax training? Then you've come to the right place!
ABTrainingCenter.com offers Certified Tax Specialist (CTS) training and certification courses for those individuals interested in earning the prestigious Certified Tax Specialist (CTS) designation.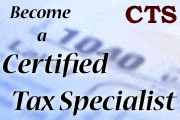 The Certified Tax Specialist (CTS) designation demonstrates the advisor's expertise and commitment to provide ways to reduce taxable income.
There are a number of ways to decrease taxable income and reduce tax liability for your clients. The CTS program will show you a process that is both entertaining and informative. You will learn how to reduce taxable income and discover the current income tax regulations and their impact on individuals, couples, families, and business owners. In addition, you'll gain sophisticated knowledge about business income, tax credits, itemized deductions, LLCs and S Corps, retirement plans, and home businesses.
Recommended Courses and Available Training Options
ABTrainingCenter.com offers the online certification course for earning the CTS designation. To pursue the CTS designation, select the recommended course below or search under "Designations" in the following search box for "CTS - Certified Tax Specialist".