Insurance And Financial Services Webinar, Webcast, & Audio Conference Calendar
Webcasts & Audio Conferences
Listed below are Insurance And Financial Services webinars, Insurance And Financial Services webcasts, and Insurance And Financial Services audio conferences to help with your Insurance And Financial Services training and Insurance And Financial Services sales training needs.

To see more details or to order a particular event, simply click the title and follow the appropriate directions therein; to see events for future months, click on the desired month.
Featured Events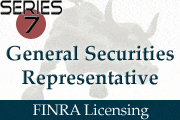 Series 7 - Live & OnDemand Online Course
11/3/2008 - 12/10/2018
Our Series 7 Virtual Course includes both print and online study tools designed to fit your study style and schedule. We know you're a busy professional, and we know you need to pass,
the first time!
Webinar, Webcast, & Audio Conference Calendar

Aug 18|Sep 18|Oct 18|Nov 18|Dec 18|Topic/State
Webinars are typically posted 90 days in advance. Please select either another month or use the search box below to find training.
Aug 18|Sep 18|Oct 18|Nov 18|Dec 18|Topic/State
Licensing
Earn your License quickly and easily!

Designations/Certifications
Improve your knowledge and industry standing!

Professional Development
Products & Services to help manage and grow your career!

Need training or resources in other areas? Try our other Training Center sites:

HR, Acct., Banking, Insurance, Fin. Svcs., Real Estate, Mortgage, HealthCare, Safety, Sales

Want Your Event Listed?

Contact us to have your product, services, or events listed.
BankTrainingCenter.com offers banking webcasts and audio conferences.