Get Your Indiana Insurance Adjuster License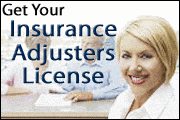 Becoming an Indiana Claims Adjuster can be an appealing profession that can be quite lucrative.
But before you can begin working as an Insurance Adjuster, you must first obtain your IN Insurance Adjuster License.
IN Adjuster License Requirements:
Be 18 years of age or older

Be trustworthy, reliable, and of good reputation

Have "not committed an act that is grounds for probation, suspension, revocation, or refusal of licensure"

Pay the appropriate fee

Complete the required PreLicensing course

Take and pass the Indiana Adjuster exam

After completion of the PreLicensing and Adjuster Exam, apply online for adjuster license

For more information on becoming an Insurance Adjuster, contact the Indiana Insurance Department:

Indiana Department of Insurance - Licensing Division
Address: 311 W. Washington Street, Suite 300 | Indianapolis, IN 46204-2787
Phone: 317.232.2413
Website: http://www.state.in.us/idoi
---
Recommended Courses and Available Indiana Adjuster Training
---

AB Training Center provides IN Adjuster training and materials needed to obtain your Indiana Adjuster License.
Licensing
Earn your License quickly and easily!

Designations/Certifications
Improve your knowledge and industry standing!

Professional Development
Products & Services to help manage and grow your career!

Need training or resources in other areas? Try our other Training Center sites:

HR, Acct., Banking, Insurance, Fin. Svcs., Real Estate, Mortgage, HealthCare, Safety, Sales