Maryland Insurance Adjuster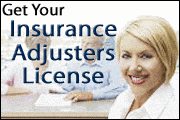 Maryland only requires a license to become a public adjuster.
Maryland residents interested in independent catastrophe adjusting should consider obtaining a non-resident Texas or Florida adjuster license.
For more information on becoming an Insurance Adjuster, contact the Maryland Insurance Department:

Maryland Department of Insurance - Licensing Division
Address: 200 St. Paul Place, Suite 2700| Baltimore, MD 21202
Phone: 800.492.6116
Website: http://www.mdinsurance.state.md.us
---
Recommended Courses and Available Maryland Adjuster Training
---

AB Training Center provides MD Adjuster training and materials needed to obtain your Maryland Public Adjuster License. We also offer courses for those interested in catastrophe adjusting . Simply select from the recommended courses below.