Montana Securities Licensing
AB Training provides securities training in the state of Montana for obtaining a Series 6, 7, and 63 license.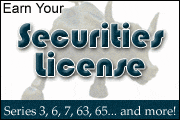 This training is offered through a number of courses and is administered through self-study, seminars, and online training. No matter how busy your schedule is, we have the perfect courses for you and your specific needs. All of our courses are designed to help you prepare for the exams developed by the North American Securities Administrators Association (NASAA). By taking one or all of our courses, you will obtain the amount of knowledge and assurance you need to pass your exams with ease.
Montana's economy is mostly made up of ranching, lumber, and coal mining. Agriculture is the financial engine for the state, bringing in more than $2 billion each year.With each of these businesses, their buildings and properties expand for miles. Although agriculture is definitely the largest contributor, there is an increasing demand for securities training courses which has really begun to climb in the past few years.
AB Training Center now has a large variety of courses readily available in Billings, Bozemand, Butte, Missoula, Great Falls and surrounding areas. Please contact us to get started in your classes today.
Find Montana Securities Lincense Training