About The Series 6 License
A Series 6 license qualifies an individual to sell investment company securities, mutual funds, variable annuities, and variable life insurance products.
By successfully passing the Series 6 exam, you will be qualified by the Financial Industry Regulatory Authority (FINRA) as an Investment Company Products/Variable Contracts Representative in the United States.
How To Earn Your Series 6 License
To earn your Series 6 license, you are required to take both a Securities Industry Essentials (SIE) exam and a series 6 exam. AB Training Center provides provides both SIE and the Series 6 license review courses in online, self-study courses, or in-person class formats. Each is designed to help you prepare - and pass - your Series 6 exam.
---
Available SIE And Series 6 License Review Classes
---

TrainingCenter offers several different types of training classes to help you meet your SIE and Series 6 training goals, including in-person, online, and self-study options. You have three options for ordering your Series 6 Licensing courses: order only a Securities Industry Essentials course; order a Series 6 course only, or; order both at the same time for a discounted price.
Available SIE License Review Classes
Available Series 6 License Review Classes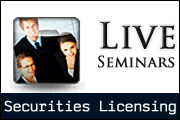 Available SIE And Series 6 Combo Packages