Earn Your Series 6 License!
Searching for Series 6 license training and help passing your FINRA Series 6 exam? Then you've come to the right place!
AB Training Center offers online and classroom Series 6 License training and review courses, including Series 6 study guide, exam, prep, practice exams, and other study materials.
What Is A Series 6 License & FINRA Licenses?
A Series 6 license qualifies an individual to sell investment company securities, mutual funds, variable annuities, and variable life insurance products.
By successfully passing the Series 6 exam, you will be qualified by the Financial Industry Regulatory Authority (FINRA) as an Investment Company Products/Variable Contracts Representative in the United States.
Series 6 Exam Requirements and Information
The FINRA Series 6 examination is a national test and does not vary by state. The exam consists of 100 questions, and must be completed within 135 minutes. A score of 70% or higher is required to successfully earn your FINRA Series 6 license.
To register for the Series 6 exam, you must first be sponsored by a member of FINRA or a Self-Regulatory Organization (SRO). Your sponsoring agent/broker will submit the necessary form, and you will be supplied a 4-month window in which you can schedule your exam ? check out the FINRA testing centers. Sponsorship is NOT needed, however, to take any of our Series 6 review class packages.
If you do not currently have a sponsor, then it would be to an individual?s advantage to list "Studying for Series 6 exam" on a resume to enhance the viability of an employment application.
Please note: A Series 6 license is most times accompanied by a Series 63 license, which qualifies individuals to sell across state lines.
Series 6 Review Classes and Training Courses
AB Training Center offers Series 6 live review classes and training courses to assist with your studies that will focus on content that conforms to the Series 6 exam outline. Click below for our most popular Series 6 courses: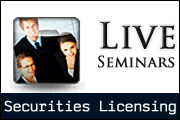 Good luck with your Series 6 Exam prep and earning your Series 6 license!