Series 55 License
About The Series 57 License
Searching for Series 55 training and help passing your Series 57 exam? Then you've come to the right place!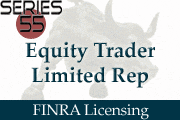 What Is A Series 57 License?

Cory: Please change description, recommended courses (from 55 to...), plus include a statement re used to be Series 55


A Series 57 Equity Trader/Limited Representative license qualifies an individual to trade equity and convertible debt securities on a principal or agency basis.

ABTrainingCenter.com offers online Series 55 training, Series 55 books, CDs, and other Series 55 training materials to help individuals pass the Series 55 exam and earn a Series 57 license.
Recommended Series 57 License And Exam Prep Courses
To find training for earning your Series 57 license, simply click on any of the recommended courses below, or search under "Licensing/Designations" in the search box thereafter for "Series 57". Good luck earning your Series 57 securities license!
Recommended Training Courses:
Recommended Course(s)
Find Seminars, Webinars, And Online Training In Your Area
Related Links
Series 55 Test
Share on Facebook
Share on Twitter