Series 65 Exam Requirements
A Series 65 license qualifies a representative to act as an investment advisor and receive a fee.
---
Preparing For The Series 65 Exam
---

Before you can think about scheduling your exam, you must first choose the best method of Series 65 exam prep.
AB Training Center offers Series 65 exam prep classes and Series 65 courses to assist with your studies that will focus on content that conforms to the Series 65 exam requirements. Click below for our most popular Series 65 courses: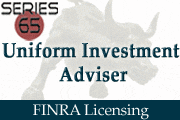 Series 65 Exam Requirements:
There is no required pre-licensing to sit for the Series 65 exam; however, it is highly recommended that you use or Series 65 Exam Prep materials or take one of our Series 65 courses.
There are no prerequisites for Series 65 Exam Requirements, but if registering as an individual, you must complete Form U-10. You may self-study and take as many Series 65 courses as you wish before registering.
In addition to the Series 65 exam fee, you will be required to provide fingerprints and authorize a background check.
---
Once You've Met The Series 65 Exam Requirements
---

If you've met all of the Series 65 Exam Requirements, then you are ready to schedule your Exam! Simply visit a Prometric Testing Center to find an exam facility near you. Exams are given year-round.
The Series 65 exam is 130 multiple choice questions. Test takers will have 180 minutes to complete the exam. Cost of the Series 65 exam is $135.
Good luck with your Series 65 Exam Prep and Exam!