Virginia Insurance Adjuster License
Virginia Insurance Adjuster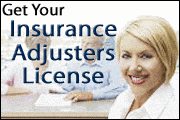 Virginia does not require a license to work as an adjuster.

Virginia residents interested in independent catastrophe adjusting should consider obtaining a non-resident Texas or Florida adjuster license. See below for courses.

For more information on becoming an Insurance Adjuster, contact the Virginia Insurance Department:

Virginia Department of Insurance - Licensing Division
Address: P.O. Box 1157 | Richmond, VA 23218
Phone: 804.371.9631
Website: http://www.scc.virginia.gov
---
Recommended Courses and Available Virginia Adjuster Training
---

AB Training Center provides Catastrophe Adjuster training and materials for those who are interested in becoming an Independent Catastrophic Adjuster. Since Virginia does not license adjusters, you may become licensed through the Texas or Florida program to obtain a non-resident license. Simply select from the recommended courses below.

Recommended Training Courses:
Online Training Courses
Webinars Or Audio Conferences
Find Seminars, Webinars, And Online Training In Your Area
---
DISCLAIMER
---
This information is based on state laws and regulations, and is subject to change. ABTrainingCenter makes every effort to make sure this information is current and accurate, however, ABTrainingCenter is not engaged in rendering legal or professional advice and shall not be held responsible for inaccuracies contained herein.
Share on Facebook
Share on Twitter