Kentucky Insurance Adjuster License
Kentucky Insurance Adjuster Licensing Requirements
Becoming a Kentucky Claims Adjuster can be an appealing profession that can be quite lucrative. But before you can begin working as an Insurance Adjuster, you must first obtain your KY Insurance Adjuster License.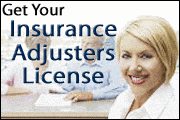 KY Adjuster License Requirements:
21 years of age or older

Fulfill one of the following:

Be an employee of an insurer, or

Be a full-time salaried employee of a licensed adjuster, or

Be a graduate of a recognized law school, or

Have experience or special education or training as to the handling of claims long enough and frequently enough to be competent to fulfill the responsibilities of an adjuster.

Be trustworthy and of good reputation

Be competent to exercise the license

Have an office accessible to the public

Be financially responsible

Pass the KY state exam administered by KY Department of Insurance

Complete the Kentucky Insurance Adjuster License application and submit with $50 application fee

No Continuing Education is required
Non-Resident Kentucky Insurance Adjuster License

Non-resident applicants for a KY Adjuster License must submit an application. Please visit the National Insurance Producer Registry for more information on Kentucky non-resident licensing.

NOTE: Kentucky grants reciprocal licensing privileges to anyone holding a license from their home state which also allows Kentucky adjusters to work in that state.

Kentucky Department of Insurance - Licensing Division

Address: 215 W. Main Street | P.O. Box 517 | Frankfort, Kentucky 40602-0517
Phone: 502.564.6004
Website: http://insurance.ky.gov/
Recommended Kentucky Adjuster Training Courses
Once you earn your license, you'll need help with the computer programs used to determine claim estimates. To assist with this need, we have included below a link to our Xactimate training course, which is the leading claims software program in the country.
Recommended Training Courses:
Online Training Courses
Webinars Or Audio Conferences
Find Seminars, Webinars, And Online Training In Your Area
Other Insurance Licensing Courses For Your State:Disclaimer
This information is based on state laws and regulations, and is subject to change. ABTrainingCenter makes every effort to make sure this information is current and accurate, however, ABTrainingCenter is not engaged in rendering legal or professional advice and shall not be held responsible for any inaccuracies contained herein.
Share on Facebook
Share on Twitter