Are You Looking For Series 26 Study Aids?

Then you've come to the right place!

ABTrainingCenter.com offers Series 26 Study Aids that will help you pass the NASD Series 26 exam on the first try!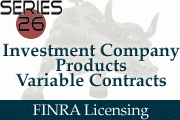 Included in the Series 26 Self-Study Package:
OnDemand Online Class (Allows you to view the course from beginning to end at your leisure. These courses provide you the same high-level of instruction you would expect from a live class)
Series 26 Study Guide (License Exam Manual)

Class Notes

Series 26 Sample Exams

Securities Pro QBank (Formulate practice tests based on topic, level of difficulty, etc)

Instructor Link


Recommended Courses & Available Training Options For NASD Series 26

To find Series 26 study aids, simply click on any of the recommended courses below, or search under "Licensing" in the search box thereafter for "Series 26".

Good luck with your NASD Series 26!