Series 4 Test Study Material
Are You Searching For Series 4 Test Study Material And Help Passing Your Series 4 Test?

Then you've come to the right place!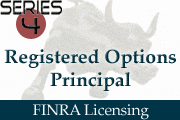 A Series 4 Registered Options Principal license qualifies managers to supervise option sales personnel or individuals supervising options compliance.

You must first have your Series 7 license in order to obtain your Series 4 license. The Series 4 test is comprised of 125 multiple-choice questions and each student will be given 3 hours to complete the exam.

ABTrainingCenter.com offers Series 4 test study materials, including Series 4 study guides, CDs, and other Series 4 test study material to help individuals pass the Series 4 exam and earn a Series 4 license.


Recommended Courses & Available Training Options for Series 4 Test Study Materials

To find Series 4 test study material for earning your license, simply click on any of the recommended courses below, or search under "Licensing" in the search box using "Series 4" as the subject.

Good luck on your Series 4 test!
Recommended Training Courses:
Books/CDs/Other Training Resources
Find Seminars, Webinars, And Online Training In Your Area
Keywords: Series 3 Exam, Series 3 Exam Prep, Series 3 license, Series 3 Courses, Series 3 licensing, Finra Series 3 license, Series 3 test
Share on Facebook
Share on Twitter