Are You Looking For Series 9 Study Materials?

Then you've come to the right place!

By taking and passing the Series 9 test, you will be qualified by the Financial Industry Regulatory Authority (FINRA), previously the National Association of Securities Dealers (NASD), as a General Sales Supervisor. The Series 9 exam covers the following major topics (and is combined with the Series 10 for testing purposes):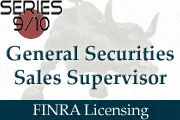 Option and Municipal Supervision

Sales Supervision

Primary and Secondary Markets

Financial Responsibility

Investment Companies and Retirement Plans
The Series 9 study test is a 200-question (55 questions from Series 9), multiple choice exam. You must receive 70% or higher in order to receive your Series 9 license. It is suggested that you study your Series 9 exam materials or Series 9 Study Guide for 5-6 weeks before sitting for the exam.

To assist with your studies, ABTrainingCenter.com offers a variety of Series 9 study materials including Series 9 online training, and the Series 9 study guide self-study package. Our online Series 9 exam prep seminars are a must for anyone wanting to pass the Series 9 on the first try!

Available Training Options for Series 9 test

To find Series 9 training, simply click on any of the recommended courses below, or search under "Licensing" in the search box thereafter for "Series 9".

Good luck with your Series 9 test!