Series 3 Exam
Searching for Series 3 Exam Prep Courses?

Then you've come to the right place!

By taking and passing the Series 3 exam, you will be qualified by the National Futures Association to sell commodities or futures products. The National Commodities Futures Exam (Series 3) covers the following major topics: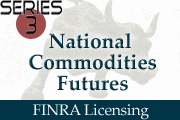 Futures Trading

Hedging

Futures Margins and Settlements

Price Analysis

Spreading

Rules and Regulations
The Series 3 exam is a 120-question, multiple choice test. A passing grade is 70% or higher. It is suggested that you study your Series 3 exam prep materials for 4-6 weeks before sitting for the Series 3 exam.

To assist with your studies, ABTrainingCenter.com offers a variety of Series 3 exam prep training options including Series 3 courses, in both classroom and online formats, and Series 3 self-study exam prep materials. Our live and online Series 3 exam prep classes are a must for anyone wanting to pass the Series 3 exam on the first try!

Available Training Options for Series 3 Exam

To find training to help you pass the Series 3 exam, simply click on any of the recommended Series 3 courses below, or search under "Licensing" in the search box thereafter for "Series 3".

Good luck passing your Series 3 exam!
Recommended Training Courses:
In-Person Seminars
Online Training Courses
Find Seminars, Webinars, And Online Training In Your Area
Keywords: Series 3 Exam, Series 3 Exam Prep, Series 3 license, Series 3 Courses, Series 3 licensing, Finra Series 3 license, Series 3 test
Share on Facebook
Share on Twitter