Texas Adjuster: Property and Casualty Licensing Course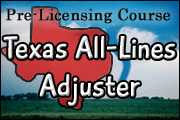 Seminar: ID# 1001879
About This Course:
The course is in compliance with the new license format and satisfies the Texas Adjuster pre-licensing requirement.
As a classroom attendee, you can satisfy the Texas Adjuster pre-licensing requirement and take the state exam without having to travel to the testing center.
Pre-class homework is required and provided in the student materials that will be mailed to the student upon enrollment in the class. Students are certified to apply for state licensing upon successful completion of the final exam given and graded on the last day of class.
This 4-day Course Covers:
Principles of insurance
Auto coverage
Liability
Homeowners coverage
Boiler and machinery
Aviation
Ocean marine
Bonds
Live Classroom Review
Insurance experts deliver material in a concise and easy-to-understand manner, while providing important topical insight and valuable exam tips and strategies.
Class Notes
(printed)
Concise and easy-to-use, these study notes highlight critical exam-focused content.
Texas Adjuster State License Exam
On the last day of class, you'll take the Texas Adjuster State License exam. Successfully pass the exam to receive your Certificate of Completion. Once you have your certificate, you are eligible to apply for a Texas Adjuster License!
---
Receipt of Materials
The printed materials noted above in the Premium Instruction Study Solution are shipped via UPS. Please allow 3-4 business days for delivery (shipping charges will be applied during checkout).
If you are registering for a class within 3 business days of the class start date, you must elect to have the materials shipped UPS next-day air during the checkout process. Express orders received by 11:45am EST will be delivered the following business day. Any overnight orders received after that time will ship the next business day. Note: Any orders that are not upgraded to overnight shipping for classes beginning within 3 business days risk the chance of materials not arriving in time for class.
PassProtection™ Guarantee
We're so confident that you will pass your Insurance Licensing Exam after completing this program that we will provide free enrollment in future classes should you not pass your exam!
In the event that you were unsuccessful passing the exam, or just want to take the class again, our PassProtection guarantee is here to help. With PassProtection, you can retake the class as needed within three months from your enrollment date with no additional fees.
Order:
Texas Adjuster: Property and Casualty Licensing Course
Price: $469.00
To order this product, find a location and date that is convenient for you under the "
Cities & Dates
" tab.