Searching for QFA training? Then you've come to the right place!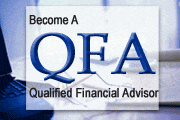 Qualified Financial Advisor QFA Designation
ABTrainingCenter.com offers QFA designation training and certification courses for those individuals interested in earning the prestigious Qualified Financial Advisor designation.
The Qualified Financial Advisor (QFA) is a highly-regarded designation for those professionals who provide financial planning and advisory services to their clients. The QFA designation program is ideal for those professionals who may wish to attain the coveted CFP® designation, but may lack the bachelor's degree or experience requirements, or the time/money to devote to becoming a CFP® certificant.
For those QFA designees who wish to pursue CFP® Certification later, successful completion of this program allows a QFA designee to exempt out of the first (FP101) of six modules of the Accelerated Certificate In Financial Planning program.
Recommended Courses & Available Training Options
ABTrainingCenter.com offers the online curriculum for earning the QFA designation.
Simply select the recommended course listed below, or search under "Licensing/Designations" in the search box thereafter for "QFA - Qualified Financial Advisor"