Are You Searching For IRA Training?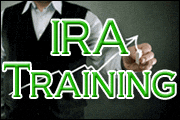 Need IRA training for you or your staff? Then you've come to the right place!

With a steadily-aging population and growing concern about the future of Social Security benefits, IRAs are fast becoming the #1 retirement product. Therefore, whether you work at a bank, financial services, or accounting firm, it is crucial to have a solid understanding of Individual Retirement Accounts (IRAs) to assist your clients and/or help grow/manage their assets.

ABTrainingCenter.com offers IRA training classes and seminars for those looking to learn about IRAs, as well as both basic and advanced IRA training courses for those looking to improve their knowledge of IRAs and assist clients with their IRA needs.

We provide comprehensive IRA training classes for many topics, including:
IRA basics
IRA strategies and sales ideas
IRA Rollovers
IRA Audits and Compliance
Traditional vs. Roth IRAs
Basic And Advanced IRA Training Classes

Our IRA training courses are available in many formats, including classroom or in-person seminars, online courses, webinars, audio conferences, and self-study materials.

Each of these IRA training courses are designed to help with both your product knowledge and your ability to market, sell, or transfer in IRA accounts from clients and prospects.

Looking To Sell Mutual Funds to IRA Clients?

Once you have the appropriate IRA training, you can expand on that expertise by selling mutual funds or other financial vehicles to your IRA clients. We suggest you start by earning your Series 6 or Series 63 license!


---
Recommended IRA Courses & Available Training Options
---
Listed below are some of our most-popular IRA training courses. Either select one of these recommended courses or choose "IRA" from the "Professional Development" section of the search box below.