Workers compensation is an insurance that provides certain wage and other benefits to people who are injured or become ill at work. Workers comp benefits are intended to be available to cover lost wages and medical costs related to an injury occurred when an employee is at work.
Generally, employers are required to carry workers comp insurance, report workplace injuries and illnesses within a specified time period, permit workers to file an injury claim - and not take any action to discourage them from doing so - as well as comply with workers compensation laws for their state.
Coverage and benefits are mandated by each individual state and can vary according to the state in question. Whether those benefits spiral out of control or are properly managed depends on a lot of factors, including how well the organization knows the workers comp laws and how well it handles it's workers comp administration requirements. Click the applicable link below for your state's requirements and recommended training courses.
Info For Insurance Agents
What Should An Insurance Agent Know Re Workers Compensation?
At a base level, insurance agents should be able to explain to their clients how workers compensation works, understand their clients' past and potential claims, then be able to get quotes for coverage. Regarding coverage - and it's cost - insurance agents should understand the number and type of employees, as well as the kind of work the employees do in order to get quotes.
Regarding the administrative end, Insurance Agents should understand the state's workers comp rules and requirements, how to deal with accommodation and return-to-work requests, management of the claim, proper account handling procedures, and how to fight fraudulent claims. Read below for training courses that teach you and your clients how to do this and more!
What Should Insurance Agents And Administrators Know About Workers Comp Compliance?
Insurance Agents should have at least a working knowledge of, and individuals assigned to handle workers compensation responsibilities should specifically know, how to develop, maintain, and manage the organization's workers' comp program, investigate and process workers' compensation claims, communicate with employees, managers, insurance carriers, medical providers, attorneys, and upper management re workers comp issues.
Further, workers comp administrators should be able to accurately and timely report workplace injuries and illnesses, work within the various workers compensation laws, rules, and requirements for issues and requests such as accommodations, restrictions, and return-to-work. Yes, there is a lot of work - and regulations - in handling an organization's workers comp responsibilities. But don't worry, we have many workers comp training courses that can help!
Workers' Compensation Training Courses
Listed below are some of our best-selling workers comp seminars, webinars, and online training courses. You attend seminars either via video conference or in-person at a specific date, time, and venue. Webinars are available in live, CD, and OnDemand formats.
Online Workers Comp Training Courses
The following are online courses you can take anywhere with Internet access: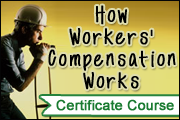 Workers Comp Training Seminars And Webinars
Find Other Workers Comp Training Courses
Select one of the recommended courses herein or use the search box to find additional workers compensation training courses.