Georgia Workers' Compensation Training For Insurance Agents
Workers' Compensation Training For Insurance Agents In Georgia
Improve Your Workers' Compensation Skills: Learn About Georgia Workers Compensation Law
Are you currently working as a Workers' Compensation professional? Do you need to know more about the Workers' Compensation state laws and statutes in Georgia? Or would you like to pursue a professional designation and earn the Workers' Compensation Specialist (WCS) designation?
What Are The Workers Compensation Insurance Requirements In Georgia? What Role Does An Insurance Agent Play In Georgia Workers Compensation?
Georgia law requires employers with three or more full-time, part-time, or seasonal employees to have workers' compensation insurance. As such, insurance agents should know Georgia workers compensation law, be able to explain to their clients how workers compensation in Georgia works, understand their clients' past and potential claims, then be able to get quotes for coverage. Georgia Insurance Agents also should understand the:
Georgia workers comp law, rules, and requirements
Responsibilities of the administrator in handling the workers comp claim
How to deal with accommodation requests
Selection of the medical providers
Medical management of the claim
Proper account handling procedures
Best practices for workers comp claim handling
Rules and options for return-to-work
Intracacies of how to fight fraudulent claims
Georgia Workers' Compensation Training Courses
Workers Comp Training Seminars And Webinars
Listed below are some of our best-selling Workers Comp seminars and webinars. You attend seminars in-person at a specific date, time, and venue. Webinars are available in live, CD, and OnDemand formats.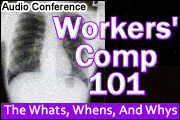 Online Workers Comp Training Courses

The following are online courses you can take anywhere with Internet access: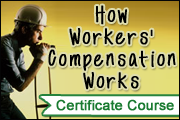 Earn A Georgia Workers Comp Specialist Designation
Why Get A Workers Comp Specialist Designation?
A Georgia workers' compensation specialist designation helps ensure that you and your organization follow federal and state guidelines for job safety, disability law, and claims management that could affect the rights of employees or employers.
It is a valuable credential that verifies an individual's specified level of knowledge, skills, and abilities regarding the handling of workers compensation claims and administration. The certification not only demonstrates that you know the laws and regulations, but that you understand how to apply the concepts taught in the workplace.
Not only does it help you to do your job better, but a certification is valuable for your job growth. A Georgia Workers Comp Specialist Certification provides:
Added credibility
Better job mobility
A stronger resume
Prestige
Pay raises
Perception as 'more valuable' to your organization
For more details on the Georgia Workers Comp Specialist Designation, go to
www.ABTrainingCenter.com/showbudetails.aspx?tcid=1000230
Find Other Workers Comp Training Courses
Select one of the recommended courses below or use the search box to find additional workers compensation training courses.
Recommended Training Courses:
Special Promotions
Online Training Courses
Find Seminars, Webinars, And Online Training In Your Area
What Does A Georgia Workers Compensation Specialist Do?
A Georgia worker's compensation specialist or workers comp manager is responsible for:
Developing, maintaining, and managing the organization's workers' comp program
Investigating and processing workers' compensation claims
Communicating with employees, managers, insurance carriers, medical providers, attorneys, and upper management re workers comp issues
Reporting workplace injuries and illnesses within a specified time period
Dealing with claim investigations, settlements, and litigation
The coordination the disbursement of benefits
Handling claim denials
Working within the various Workers Compensation laws, rules, and requirements for issues and requests such as accommodations, restrictions, and return-to-work
Yes, there is a lot of work - and regulations - in handling your organization's workers comp responsibilities. But don't worry, we have many workers comp training courses that can help!
For More Info On Georgia Workers Compensation Regulations
The workers' compensation system in Georgia is a no-fault system designed to compensate injured workers for medical bills, lost wages, and permanent impairments resulting from their injuries.
Georgia law requires employers with three or more full-time, part-time, or seasonal employees to have workers' compensation insurance. For specific information on Georgia workers comp law - aka Georgia workmans comp law - contact:
Georgia 270 Peachtree Street, NW
Atlanta, GA 30303-1299
United States
404-656-3818
https://sbwc.georgia.gov/
Disclaimer: This information provided is based on state laws and regulations, and is subject to change. While we make every effort to asure this information is current and accurate, it is not engaged in rendering legal or professional advice, and shall not be held responsible for inaccuracies contained herein.