Workers' Comp Training Seminar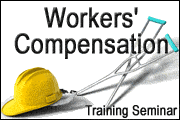 Seminar: ID# 1003657
Pricing: $199.00
About This Course:
Learn Workers Compensation Law And Your Compliance Requirements
Workers' Compensation is an area in which many organizations inadvertently overspend. Consequently, workers' comp is a great area to analyze in an effort to cut costs and trim the fat from your budget.
This seminar will help you identify numerous ways to slash costs, trim unnecessary spending, streamline your safety plan, reduce employee turnover and days off work, and boost the effectiveness of your return-to-work program.
Confused About The Complexities Of Workers' Comp?
You're not alone! Even seasoned HR veterans have a hard time interpreting grey areas in workers' compensation law, keeping up with changing regulatory issues, and managing their compensation plans.
In this information-packed one day seminar, you'll discover a wealth of strategies, insider tips, tools, and more to help you manage your entire workers' compensation plan more effectively.
Get Up To Speed On Legal Issues Surrounding Workers' Compensation
We'll guide you through workers' comp laws and examine important court cases and decisions that may affect your organization. We'll also cover one of the more confusing issues facing workers' comp specialists: the "Bermuda Triangle" and the complex ways in which workers' comp, FMLA, and ADA regulations can overlap.
You'll receive real-world, proven ideas, strategies, and techniques that other successful organizations are putting into practice right now.
Created by our dedicated team of HR specialists, compensation gurus, and benefits experts, Workers' Compensation covers tried and true best practices, up-to-the-minute legal issues, employee fraud, safety issues, and much more!
Top FAQs
What Is Involved With Calculating Workers' Compensation Insurance Premiums
oss costs, loss cost multipliers, rates, experience modification factors, schedule credits, premium discounts, expense constant. Unravel the mystery and learn why some employers pay much more than others for the same coverage.
What Are Some Workers' Compensation Claim Handling Procedures?

Prompt reporting, quick action, managing care, and a return-to-work planning.
What Role Does An Insurance Agent Play In Workers Compensation?

Insurance Agents also should understand his or her applicable state's workers' comp rules and requirements, responsibilities of the organization, proper procedures for claims handling and return-to-work, and how to investigate claims of fraud.
What Does A Workers Compensation Administrator Do?

Develop, maintain, and manage the organization's workers' comp program, including communicating with employees, managers, insurance carriers, medical providers, attorneys, and upper management, handling claims, the reporting requirements, medical-related issues, and fraud investigations.
What Is Required Re Workers' Comp Reporting?

What you need to track, when you need to track it, and why
What Is Workers Compensation?

Workers Comp is an insurance that provides certain wage and other benefits to people who are injured or become ill at work. Coverage and benefits are mandated by each individual state and can vary according to the state in question.
Continuing Education Credits:

Click the 'Credits' tab above for information on PHR/SPHR, PDCs, and other CE credits offered by taking this course.