What Is A Property and Casualty License? How Do I Become A P&C Insurance Agent?
A property and casualty license is required for selling property and casualty insurance, which is insurance that protects an individual's or business' assets or protects them from liability. You can sell a variety of different types of insurance under a property and casualty license, such as homeowners' insurance, car insurance, commercial property insurance, and professional liability insurance.
Generally speaking, to get licensed, you must take your state-required pre-licensing courses, then pass your state's licensing exam (Note: TrainingCenter offers your required pre-licensing courses in both self-study and virtual formats). After passing, you typically must meet any basic state requirements such as age, passing a background check, etc.
Property & Casualty (P&C) Licensing Requirements
The license is obtained by upon successful completion of an entry-level exam that tests the applicant's knowledge of general insurance concepts, insurance provisions and policies, and contract law.
Applicants are also expected to be familiar with laws and regulations pertaining to property and casualty insurance in their specific state, in addition to federal regulations pertaining to insurance and public transactions. The specifics of the examination, number of questions, time allotted, passing scores, and so on, varies from state to state. The test is given in multiple choice formats in all states.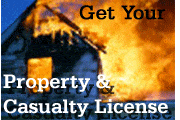 About The Property and Casualty Insurance Exam
Before you can sell property and casualty insurance, you will need to pass the property and casualty insurance test, sometimes called the P & C exam, for your state. You may also be required to successfully complete a pre-licensing course. Fortunately, you will find everything you need to pass the property and casualty exam and meet your pre-licensing certification requirements at Agent Broker Training Center.
How To Prepare For The Property And Casualty Exam
In preparation for the exam, applicants should take our property and casualty insurance courses, including our pre-licensing courses and our study guides, practice tests, and exam prep materials. A combination of coursework and personal study materials, either digital or printed, will give you your best chance of passing your licensing exam on the first try. Since each state may have different laws, terms, and definitions when it comes to property and casualty insurance, it is very important that your study materials and courses are geared to your specific state.
About Our Pre-Licensing Courses And Exam Prep Materials
AB Training Center offers training programs that are essential for helping applicants successfully pass the exam and obtain a license. The company's training programs consist of property and casualty courses as well as CPCU designation courses that include exam preparation and pre-licensing courses. Also offered are training programs for CPCU and AIC designations.
There are a number of different options for undertaking AB Training Center's training programs. Applicants may choose from live in-person classes, online training courses, and self-study programs for property and casualty insurance, property only, or casualty only licenses.
AB Training Center's casualty and property insurance exam prep and pre-licensing courses are offered in almost every state around the country. The company's website details information on the licensure examination requirements in each state. Those looking for more specific information on the licensure exam may also search the site for the appropriate insurance licensing course in their specific state. And to help with your examination scheduling, we provide information on each state's
licensing requirements, insurance department, and examination scheduling facilities
.
Good luck passing your Property & Casualty insurance licensing exam!
Related Links: