Louisiana P&C Insurance License Courses And Exam Prep Materials
Property And Casualty Insurance Licensing Courses In Louisiana
About The Louisiana Insurance License For Property And Casualty
The first step when it comes to selling insurance in Louisiana is obtaining the proper license. Each line of insurance in Louisiana has specific policies and rules regulating it, and insurance brokers must know these rules to properly serve their clients. Below, you will find the requirements for obtaining a Louisiana property and casualty insurance license, including help finding the right insurance prelicensing and exam training with ABTrainingCenter.com.
What A Louisiana Property And Casualty Insurance License Can Do For You
After a person's family and personal health, the priority tends to be protecting one's property. People work hard to amass their homes, cars and other valuables, and they want to ensure these items are safeguarded.
As a licensed provider of property and casualty insurance in Louisiana, you can help. When people come to you to protect their assets, you need to have the skills and credentials required to serve them. When you have a property and casualty insurance license, you will be on your way to being able to serve all your community's insurance needs.
Louisiana P&C License Courses With Agent Broker Training Center
You will find all the training you need, as well as courses to meet the prelicensing requirements and the certification exam, through Agent Broker Training Center by clicking the appropriate link below. This time-tested course provides all the material you need in an easy-to-understand format you can use to learn according to your own style.
Recommended Louisiana P&C Insurance Licensing Courses And Exam Prep Materials
If you choose one of our courses and put in the appropriate number of hours of study time, you have a great opportunity to pass the certification exam and the licensing exam on your first attempt.
To find Louisiana property and casualty insurance licensing courses, simply click on any of the recommended courses below or select "Property And Casualty" and your state from the "Licensing" section of the search box below. Good luck passing your Louisiana P&C insurance licensing exam and becoming a Louisiana insurance agent!
Recommended Training Courses:
Online Training Courses
Find Seminars, Webinars, And Online Training In Your Area
How To Become A Louisiana Property And Casualty Insurance Agent
Property And Casualty Prelicense Louisiana Requirements For Resident Agents
The state rules for the property and casualty license in Louisiana includes prelicensing, as is the case in many states. To fulfill your prelicensing requirement, you must take 40 hours of approved prelicensing coursework in property and casualty insurance. Once you have completed this requirement, you must take and pass a certification exam with at least a 70 percent to qualify for the Louisiana property and casualty licensing exam.
Louisiana Property And Casualty Exam Requirements
Once you have your certificate of completion for your property and casualty prelicensing, get in touch with PSI Exams and schedule the test. Exam dates are usually available any day of the week, with restricted hours on Sunday. Make sure you have a government-issued photo I.D. with your name and signature as well as your certificate of completion.
The property and casualty licensing exam is a 150-question multiple-choice exam. As with the prelicensing exam, you will need to score 70 percent or higher to pass. Once you do, you can contact the Louisiana Department of Insurance at 225-342-0860 or online and submit an application. You must submit your application within one year of passing the exam.
Contact Info: Louisiana Property And Casualty License Requirements
To help with your examination scheduling, we have provided below information on Louisiana licensing requirements, its insurance department, and examination scheduling facilities.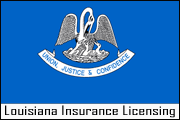 Louisiana Department of Insurance - Licensing DivisionAddress:
P.O. Box 94214 | Baton Rouge, LA 70804-9214
Phone:
225.342.0860
Fax:
225.342.3754
Website:
http://www.ldi.la.gov
Examination SchedulingProvider:
PSI Exams
Phone:
1.800.733.9267
Website:
http://www.psiexams.com
Good luck passing your Louisiana P&C insurance licensing exam!
Other Insurance Licensing Courses For Louisiana:
Disclaimer
This information is based on state laws and regulations, and is subject to change. ABTrainingCenter makes every effort to make sure this information is current and accurate, however, ABTrainingCenter is not engaged in rendering legal or professional advice and shall not be held responsible for inaccuracies contained herein.