2020 Financial Services Events
Listed below is our list of financial services and insurance webinars for 2020. Many offer industry-specific credits; simply click a title for specifics.
SIE And Series 6 Webcast Combo
Fulfill your licensing requirements with this course which combines both the SIE and Series 6 review courses into one convenient package.
Available Versions:
Series 7 Top-Off - Live Webinar With OnDemand Playback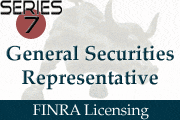 Our Series 7 Top Off class includes both print and online study tools designed to fit your study style and schedule. We know you're a busy professional, and we know you need to pass the first time!
Available Versions:
Xactimate Software Training - Live Online

AdjusterPro is pleased to bring Xactimate® Training that combines the ease and affordability of online training with the real-time, hands-on experience of having a live instructor.
Looking for webinars available right now? Check out our on-demand webinars.
Find Seminars, Webinars, And Online Training In Your Area