Insurance Pre-Licensing
What Is Insurance Pre-Licensing?
Insurance pre-licensing refers to the requirements for understanding the basic laws and regulations prior to taking your licensing exam to become and insurance agent. Essentially, you are required to take an insurance pre-licensing course before sitting for your licensing exam.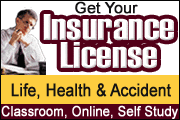 Benefits Of Insurance Pre-Licensing Courses
Our pre-licensing courses are specifically designed to prepare you for a state insurance licensing exam. Your state may require you to complete pre-licensing insurance classes, and our online or classroom courses will help you meet this requirement and provide you with a much better chance of passing your licensing examination on the first try if you have completed our insurance pre-licensing courses first.
Find Your State Pre-Licensing Class
We want to make sure you have all the information you need to pass your state insurance licensing exams, and one of the best ways to prepare is with the right insurance pre-licensing class. State insurance exams can be very challenging if you are not fully prepared. There are hundreds of different legal terms to understand and legal definitions to know. Insurance pre-licensing from Agent Broker Training Center can be the answer you are looking for. We offer insurance pre-licensing classroom and online courses which include crucial materials to give you the edge you need.
Different states have different requirements when it comes to insurance licensing, and different questions may appear on the licensing exam. That's why we provide courses geared toward pre-licensing and licensing examinations for a variety of different states - so that you can be best prepared for the insurance licensing exams you need to take. Simply click the link on the state corresponding to your licensing needs on our website to find the right pre-licensing courses for you.
For P&C or Adjuster Licensing, go to
P&C
or
Adjuster Licensing
, respectively, or use the search box below to search for your state-specific pre-licensing courses.
Find Seminars, Webinars, And Online Training In Your Area
Benefits Of Insurance Courses And Training With Agent Broker Training Center

When you work with Agent Broker Training Center for your pre-licensing and insurance examination training needs, you enjoy the convenience of learning at your own pace and in your own way with the benefit of the type of quality education you need to pass your licensing exams as soon as possible.

We employ the services of top-level insurance industry professionals when it comes to assembling our study materials, seminar instructors and online courses, so you can be confident you are getting the information and education you need. Those who pass our courses receive official certificates suitable for presenting to any regulatory body that requires pre-licensing coursework before sitting for an insurance licensing examination.

Find Your Agent Broker Training Center Pre-Licensing Course Now

If you have been putting off getting your pre-licensing training because of concerns about the time or monetary investment or the quality of the coursework, now is the time to get started. You can take our insurance pre-licensing online courses from the comfort of your own home, and we make every effort to give seminars at a location near you.

If you are interested in succeeding in the insurance industry, the sooner you complete your pre-licensing education, the sooner you can move forward in your goals and grow your career. Select your state and find the online courses, seminars, or other training materials you need right now.