Searching for Insurance licensing training courses to earn your Florida Insurance License? Then you've come to the right place, as we offer pre-licensing courses, study guides, practice tests, and exam prep materials via live in-person classes, online training courses, and self-study materials to help you earn either your Florida Life & Health, Property & Casualty, or Adjuster licenses.
Below are links for our best-selling Florida Life & Health, Property & Casualty, or Adjuster insurance licensing courses, as well as information and links for you to read about specific requirements for each license type.
If you need to know how to become an insurance agent in Florida, you've come to the right place. You'll find everything you need to know about Florida insurance license requirements right here.
To find Florida insurance licensing requirements, courses, study guides, practice exams, and exam prep materials, simply click on any of the recommended courses below or select your desired license type and your state from the "Licensing" section of the search box below. Good luck becoming a Florida insurance agent!
Why Sell Insurance In Florida
Florida is a large state with vastly different communities as you travel across it. Those communities have great and varied insurance needs. Led by Miami with over 5 million residents, Florida has more than 20 cities with populations over 150,000. These include Miami, Tampa, St. Petersburg, Jacksonville, Gainesville, Orlando, Kissimmee, Sarasota-Bradenton, Cape Coral-Fort Myers, Melbourne, Daytona Beach, Pensacola, Lakeland, Winter Haven, Ocala, and Tallahassee, the state's capitol. This means that Florida represents a great opportunity for you to sell insurance!
Miami residents may be concerned about severe weather and want to protect their property from a potential disaster. Fort Lauderdale retirees may be looking for peace of mind in their retirement through knowing their families are taken care of with a broad life insurance policy. Job opportunities for insurance adjusters in Jacksonville have often been plentiful. With a Florida insurance license, you may have a tremendous array of options.
While the Florida Department of Financial Services is responsible for giving out Florida insurance licenses and is located in the state capital of Tallahassee, you can do all your prelicensing requirements online with Agent Broker Training Center and take your Florida insurance licensing exam through Pearson VUE in a variety of locations throughout the state.
How To Become An Insurance Agent In Florida, Plus Tips For How To Pass The Insurance Licensing Exam In Florida
1. Take A Florida Pre-License Course
The first step in getting a Florida insurance license is taking pre-license education courses. These courses ad state-required, and cover the subject matter on the Florida insurance licensing exam.
There are separate exams and pre-licensing requirements for each license type (e.g., Life & Health, Property & Casualty, Adjuster, etc.), and the pre-license education requirements for each license type varies. For instance, for the Property & Casualty General Lines license, you must take 200 hours of pre-licensing education; for Life & Health you must take 60 hours.
You will receive a certificate upon completion of your Florida pre-licensing course. Be sure to bring your certificate with you when you go to take your exam.
Most applicants choose to take these courses online, as it fits their schedule better, but there are also in-person courses available. You should choose which format in which to take your courses based on your preferred method of learning. The goal isn't just to get the courses out of the way, it's to prepare you to pass your license exam on the first attempt.
2. Fill Out You Florida License Application And Schedule Your Exam
After you have completed your required pre-licensing education, the next step is to apply for your license and schedule your exam (or exams if applying for more than one type of license). We have provided contact information for Florida insurance licensing herein.
Tip: Whether you take on in-person, online, or self-studay Florida pre-licensing course, all come with many sample exam questions. We suggest you take as many of these sample exams as possible, so you might want to leave two weeks between when you pass your pre-licensing course and your exam date.
Contact Info: Florida L&H Insurance License Requirements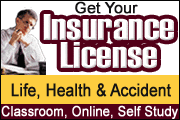 Florida Department of Insurance - Licensing DivisionAddress:Florida Department of Financial ServicesAddress:
Bureau of Agent and Agency Licensing | P.O. Box 6000 | Tallahassee, FL 32314-6000
Phone:
850.413.3137, Ext. 1101
Website:
https://myfloridacfo.com/Division/Agents/Licensing
Examination Scheduling
FL examination scheduling is administered by:
Provider:
Pearson VUE
Phone:
1.800.274.0455
Website:
http://www.pearsonvue.com/fl/insurance/
Other Insurance Licensing Courses For Delaware:
Disclaimer
This information is based on state laws and regulations, and is subject to change. ABTrainingCenter makes every effort to make sure this information is current and accurate, however, ABTrainingCenter is not engaged in rendering legal or professional advice and shall not be held responsible for inaccuracies contained herein.