Florida P&C Insurance License Class And Exam Prep Materials
Best-Selling Training Courses:
Online Training Courses
Property And Casualty Insurance Courses In Florida
About The Florida Insurance License For Property And Casualty
If you sell property and casualty insurance in Florida, you need to make sure you are properly licensed. This process includes meeting pre-licensing requirements and passing a licensing exam.
ABTrainingCenter.com offers state-approved courses to help you pass the Florida property and casualty insurance licensing exams on the first try. Read on for information about pre-licensing requirements, how the exam works and how to prepare.
What A Property And Casualty License In Florida Can Do For You


The four major types of insurance in Florida are property, casualty, health, and life. To build your client base, it is important to sell at least one or two of these lines. As a licensed property and casualty insurance broker in Florida, you can better serve Florida residents who want to protect their homes and other property.
Why Is Florida P&C Insurance Needed?
In addition to standard accidents that are common in many states, Florida, probably more than any other state, is susceptible to hurricane / weather damage. For instance, according to the state's Office of Insurance Regulation, there were more than 1 million claims filed from 2017's Hurricane Irma, with claims surpassing $11.08 billion.
Where Should I Sell Property And Casualty License In Florida
Typically, you want to market your P&C business where the most people live, and in Florida, you have a great number of cities to do so. Led by Miami with over 5 million residents, Florida has more than 20 cities with populations over 150,000. These include Miami, Tampa, St. Petersburg, Jacksonville, Gainesville, Orlando, Kissimmee, Sarasota-Bradenton, Cape Coral-Fort Myers, Melbourne, Daytona Beach, Pensacola, Lakeland, Winter Haven, Ocala, and Tallahassee.
The first step in getting a Florida insurance license is taking pre-license education courses. These courses ad state-required, and cover the subject matter on the Florida insurance licensing exam. Read below and at the bottom of this page about both our exam prep materials, licensing requirements, and contact info for the Florida Insurance Department.
About Our Property And Casualty Exam Prep Materials
We offer property and casualty license training courses that fulfil applicable pre-license education requirements. Courses are available in an online format so you can complete them at your convenience. Our exam prep materials are delivered in a concise and easy-to-understand manner, that provides important topical insight and valuable exam tips and strategies that cover the required rules and regulations specific to your state.
Bottom line, you receive a unique combination of instructional resources and interactive support tools designed to help you pass your property and casualty exam. You typically receive:
A comprehensive online textbook that utilizes short, focused paragraphs with numerous graphics and exercises to help students learn faster and retain critical information
Exam Tips
Instructor Support Access
Hundreds of practice exam questions
Use our property and casualty exam prep materials to test yourself with practice questions and solutions, pinpoint problem areas, and learn the material from the comfort of your own home.
Recommended Florida P&C Insurance Licensing Courses, Study Guides, And Exam Prep Materials
Our courses are designed to help you meet your Florida pre-licensing requirements and fully prepare you for the actual licensing exam. To find Florida property and casualty insurance licensing courses, simply click on any of the recommended courses below or select "Property And Casualty" and your state from the "Licensing" section of the search box below. Register for the courses you need and get started today! Good luck passing your Florida P&C insurance licensing exam and becoming a Florida insurance agent!
Best-Selling Training Courses:
Online Training Courses
Top FAQs
What Are The Requirements To Get An Insurance License in Florida?
You must take your state-required pre-licensing course and pass your state's licensing exam. There also are base requirements such as a minimum age, passing a background check, etc.
How Do I Become A P&C Insurance Agent In Florida?

You must take your state-required pre-licensing course, then pass your state's licensing exam. After passing your exam, you typically must meet any basic state requirements such as a minimum age, passing a background check, etc.
What Are The Pros And Cons Of Being An Insurance Agent In Florida?

Pros include flexible work schedules, high incomes via commissions, and helping your neighbors. Cons include low pay if you don't produce, pressure of working in a sales position.
How Long Does It Take To Complete My Florida Insurance Licensing Course?

Florida requires a 200-hour pre-licensing education course in general lines P&C insurance, approved by the Florida DFS that should be completed within four years of your license application date
What Doesn't The Pre-Licensing Course Cover?

While the pre-licensing course covers terms, definitions, and insurance basics, the course does not teach you how to market or sell insurance.
What Is The Best Way To Study For - And Pass - My Florida P&C Licensing Exam

How To Become A Florida Property And Casualty Insurance Agent

P&C Pre-License Requirements For Florida Resident Agents
To satisfy pre-licensing requirements, you will need to take a state-approved property and casualty pre-licensing course and pass a certification exam. Agent Broker Training Center can provide both the course and certification exam. Once you have successfully completed the course and have your certificate of completion, you can move on to the licensing exam.
General Requirements
Candidates for a Florida Insurance License must be at least 18 years of age

Candidates must be a United States citizen or legal alien, and a bona fide resident of Florida

Prior to scheduling a Florida licensing exam, a candidate's application for license must be submitted online, in addition to being fingerprinted via Live Scan at a state-authorized fingerprint site

If the application is approved, an Examination Authorization Notice will be mailed to the candidate; candidates must pass all of their examinations by the exam expiration date stated on the notice

Candidates must be licensed and under contract or employed with an authorized insurer or licensed firm or corporation to transact insurance
Property and Casualty License - General Lines (2-20)
Candidates must complete an approved 200-hour pre-licensing Classroom or Online course in all lines of property and casualty insurance

Pre-licensing Exam Exemption - Applicants for licenses in lines or sub-lines of property or casualty insurance who have been engaged in business for the last 4 years and who hold the Chartered Property Casualty Underwriter (CPCU) designation are exempt
Florida Property And Casualty Exam Requirements


To schedule your exam, contact Pearson VUE and pay the $42 examination fee. Bring a driver's license, passport or other valid government-issued photo I.D. to the testing site.
The Florida Personal Lines examination is 110 multiple-choice questions, which includes questions on types of property insurance and types of casualty insurance. You have 120 minutes to complete the exam, which you can pass with a score of 70 percent correct answers or greater.
Once you complete the exam, you will receive a score report that indicates whether or not you have passed, along with your score, diagnostic information and reexamination instructions, if needed.
If you pass, you can go to MyProfile and apply for your license online. Keep in mind that before you can receive your license, you must submit to fingerprinting and a background check. You are required in Florida to get fingerprinted by IdentoGO by IDEMIA. There is a $45.80 + tax fee for fingerprinting.
After completing your application, you will be notified of your license by the Florida Department of Financial Services through email and your MyProfile account.
Good luck passing your Florida Life & Health Exam!
Contact Info: Florida P&C Insurance License Requirements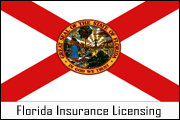 Florida Department of Insurance - Licensing DivisionAddress:Florida Department of Financial ServicesAddress:
Bureau of Agent and Agency Licensing | P.O. Box 6000 | Tallahassee, FL 32314-6000
Phone:
850.413.3137, Ext. 1101
Website:
https://www.myfloridacfo.com/Division/Agents/Licensure/General/docs/6-series.htm
Examination Scheduling
FL examination scheduling is administered by:
Provider:
Pearson VUE
Phone:
1.800.274.0455
Website:
http://www.pearsonvue.com/fl/insurance/
Other Insurance Licensing Courses For Delaware:
Disclaimer
This information is based on state laws and regulations, and is subject to change. ABTrainingCenter makes every effort to make sure this information is current and accurate, however, ABTrainingCenter is not engaged in rendering legal or professional advice and shall not be held responsible for inaccuracies contained herein.