Earn Your CFP Designation
Searching for CFP courses? You've come to the right place!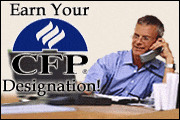 ABTrainingCenter.com offers CFP training and Certified Financial Planner certificate courses for those individuals interested in earning the prestigious Certified Financial Planner designation through the CFP exam.

To become eligible for the designation, candidates must hold a bachelor's degree (or higher) from an accredited college or university AND have three years of full-time financial planning experience or equivalent (2,000 hours equals one full-time year). CFP Candidates must also take specific pre-certification CFP certification courses and then pass a CFP exam testing their mastery of nearly 100 integrated financial planning topics (for detailed information on the steps required to obtain the Certified Financial Planner certificate, click here).

Upon successful completion of the education requirement, most students attend a review course prior to sitting for the Board Exams, due to the depth and complexity of the subject matter.

A list of best-selling CFP courses for pre-certification and review appears below.

Available Training Options For Earning Your Certified Financial Planner Designation

To prepare for the CFP certificate examination, familiarize yourself with CFP requirements and either select from one of the featured programs below or search under "Designations/Certifications" for "CFP - Certified Financial Planner" in the search box at the bottom of this page.

CFP Board Registered Courses - Meet the Educational Requirement

To become eligible to sit for the CFP exam, candidates must meet the CFP Board Educational Requirement. The following CFP courses are Board registered and will satisfy the education requirement:Review Courses

Guarantee your CFP Certification Examination success with a comprehensive CFP Review Course! Specifically designed to help professionals prepare to pass the CFP Certification Examination, we offer several options to meet the diverse needs of candidates:Complete Package

For candidates who wish to prepare online in a self-study format to become a certified CFP, this Program represents one of the most cost effective solutions among all CFP Board-Registered Programs available. As well, candidates can complete the program in less than 12 months time!Supplemental Study Materials

Enhance your preparation for the examination with these additional study materials - used either in conjunction with a Review Course or for supplemental, self-study practice.
Find Other Training Courses For Earning Your CFP Designation
For additional CFP courses and materials, select "CFP - Certified Financial Planner" from the "Designations/Certifications" in the search box at the bottom of this page.