Florida Insurance Adjuster License
Best-Selling Training Courses:
Online Training Courses
Instructor-Led: Webinars
Earn Your Florida Insurance Adjuster License With Our Florida Adjuster Pre-Licensing Courses And Exam Prep Materials
Becoming a Certified Florida Claims Adjuster can be an appealing profession that can be quite lucrative. But before you can begin working as an Insurance Adjuster, you must first obtain your FL Insurance Adjuster License.
There are many different jobs that are related to the insurance field, and one that you might be considering is insurance claims adjuster. Being a Florida claims adjuster can be extremely exciting and provide a very nice income. To get this coveted job, you will need an insurance adjuster license. Florida residents seeking this license can get assistance from ABTrainingCenter.com.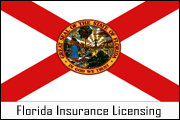 We have the claims adjuster training and Florida adjuster license courses you need to fulfill your requirements and pass your Florida insurance adjuster exam.
What Is An Insurance Claims Adjuster?
As an insurance claims adjuster, you will be the go-to person every time your Florida insurance company has to address a claim. You are the one who decides how valid the claim is and how liable your company is. The insurance company you work for will not issue a check without your say-so. You are the one who assesses the scene, interviews witnesses and does research to determine the true, fair value of the claim. It can be a thrilling and rewarding job to have.
Is A Florida Claims Adjuster A Good Business Opportunity?
Led by Miami with over 5 million residents, Florida has more than 20 cities with populations over 150,000. These include Miami, Tampa, St. Petersburg, Jacksonville, Gainesville, Orlando, Kissimmee, Sarasota-Bradenton, Cape Coral-Fort Myers, Melbourne, Daytona Beach, Pensacola, Lakeland, Winter Haven, Ocala, and Tallahassee, the state's capitol.
In addition to standard accidents that are common in many states, Florida, probably more than any other state, is susceptible to hurricane / weather damage. For instance, according to the state's Office of Insurance Regulation, there were more than 1 million claims filed from 2017's Hurricane Irma, with claims surpassing $11.08 billion.
Another benefit to earning a Florida Adjuster's license is that it qualifies as a Designated Home State (DHS) License, meaning that you can do business in other states. This is key because while there are several states that don't require an adjuster's license, insurance companies in those states do, so individuals in those states obtain a Designated Home State (DHS) License.
How Do I Become A Certified Florida Insurance Claims Adjuster?
The Florida Department of Financial Services requires licensees take a 40-hour pre-licensing course before they can become eligible for the state's licensing exam. Once you meet this requirement you'll take your state exam either at the conclusion of your pre-licensing course or through Pearson VUE testing centers.
In addition to the coursework/examination requirements, you must be at least 18 years of age, a U.S. citizen or legal alien, complete your Florida insurance adjuster license application, pay the required fees, supply fingerprints and submit to a background check.
How Do I Earn My Insurance Adjuster License In Florida?
Our FL Adjuster online course includes your state exam so there is no further testing required. At the end of the 40-hour course, you will be given a 100-question, multiple-choice exam which you must score a 70% or better on. Once you pass, you are ready to submit your adjuster application to the state. You will not need to take another test through a testing provider.
However, if you prefer to take the exam at a testing center, simply contact the Pearson VUE Testing Center near you to schedule it and arrive at the appointed time. Pass the exam with a score of 70% or higher, and you can apply for your license.
Recommended Florida Adjuster License Training Courses And Exam Prep Materials
AB Training Center provides approved FL Adjuster training and materials needed to obtain your Florida Insurance Adjuster License. We have everything you need to obtain your 6-20, 7-20, or 70-20 license. Simply select from the recommended courses below, or search under "Licensing" in the search box thereafter for "Insurance-Adjusters". Good luck earning your Florida claims adjuster license!
Also Available: Xactimate Training Courses
We also have courses to help you familiarize yourself with Xactimate software. If you aren't familiar with Xactimate already, you'll know all about it once you start working as an adjuster. This is critical claims estimating software and we can show you how to use it the right way.
Best-Selling Training Courses:
Online Training Courses
Instructor-Led: Webinars
What Are The Requirements For Earning An Adjuster License In Florida
For Resident Florida Insurance Agents
The requirements to qualify to earn a Florida claims adjuster license include:
18 years of age or older

US Citizen or legal alien who possesses a work authorization from the Immigration and Naturalization Services.

Complete our Pre-licensing Adjuster Course or pass the FL state exam administered by Pearson VUE Testing Centers. Resident applicants gain exemption from taking the Florida state exam with Pearson VUE by completing the Certified Adjuster Designation program - a 40 hour course available online.

Complete the Florida Insurance Adjuster License application and submit applicable fees

Submit fingerprints and undergo basic background check

24 hours of continuing education required every two years (5 hours must be Law and Ethics Update).
Non-Resident Florida Insurance Adjuster License
Non-resident applicants for a FL Adjuster License must submit an application. Please visit the
National Insurance Producer Registry
for more information on Florida non-resident licensing. Florida grants reciprocal licenses to adjusters who are licensed in any state that has a reciprocal agreement with Florida.
Note: AZ, CA, HI, NM, and NY do not have reciprocal agreements with Florida.
Contact Info: Florida Property And Casualty License Requirements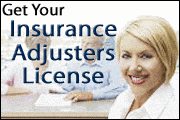 To help with your examination scheduling, we have provided below information on Florida's licensing requirements, its insurance department, and examination scheduling facilities.
Florida Department of Insurance - Licensing DivisionFlorida Department of Financial ServicesAddress:
Bureau of Agent and Agency Licensing | P.O. Box 6000 | Tallahassee, FL 32314-6000
Phone:
850.413.3137, Ext. 1101
Website:
https://www.myfloridacfo.com
Examination Scheduling
FL examination scheduling is administered by:
Provider:
Pearson VUE
Phone:
1.800.274.0455
Website:
http://www.pearsonvue.com/fl/insurance/
Other Insurance Licensing Courses For Delaware:
Disclaimer
This information is based on state laws and regulations, and is subject to change. ABTrainingCenter makes every effort to make sure this information is current and accurate, however, ABTrainingCenter is not engaged in rendering legal or professional advice and shall not be held responsible for inaccuracies contained herein.