Pennsylvania Insurance Licensing Requirements
How To Earn A Pennsylvania Insurance License
Searching for Pennsylvania Insurance licensing training courses to earn your Pennsylvania insurance license for selling insurance to groups and individuals in Philadelphia, Pittsburgh, Allentown, Erie, Reading, Scranton, Bethlehem, Lancaster, Levittown, Harrisburg, and other cities in Pennsylvania?
If yes, then you've come to the right place, as we offer pre-licensing courses, study guides, practice tests, and exam prep materials via live in-person classes, online training courses, and self-study materials to help you earn either your Pennsylvania Life & Health, Property & Casualty, or Adjuster licenses. Read below for the Pennsylvania insurance pre-licensing requirements, exam testing facilities, and recommended exam prep materials.
Pennsylvania Insurance Licensing Requirements
Below are some of the requirements for insurance licensing in Pennsylvania. We've also included information on its insurance department and examination scheduling facilities.
General Requirements
Be at least 18 years old
Complete an approved pre-licensing course
Bring your pre-licensing certificate to your state exam at PSI Exams
Life & Health Insurance Licensing
24 hours of pre-licensing education is required
Candidates may complete pre-licensing via a classroom, online, or self-study course
Certification exam for self-study courses must be monitored by a disinterested third party
Property & Casualty Insurance Licensing
Candidates must complete 24 hours of pre-licensing prior to sitting for the state test
Pre-licensing can be done via a classroom, online, or self-study course.

Certification exam for self-study courses must be monitored by a disinterested third party
Adjuster LicensingWorkers' Compensation Licensing And/Or Certification
Recommended Insurance Pre-Licensing Courses For Pennsylvania Life, Health, P&C, And Adjuster Licensing
At ABTrainingCenter.com, we have all the information you need about pre-licensing requirements, taking the licensing exam and how to prepare for the exam with our state-specific insurance license classes.
To find Pennsylvania insurance licensing training courses, study guides, practice exams, and exam prep materials, simply click on any of the recommended courses below or select your desired license type and your state from the "Licensing" section of the search box below. Good luck becoming an Pennsylvania insurance agent!
Recommended Training Courses:
Below are links for our best-selling Pennsylvania Life & Health, Property & Casualty, or Adjuster insurance licensing courses, as well as information and links for you to read about specific requirements for each license type.
In-Person Seminars, Workshops, And Video Conferences
Online Training Courses
Find Seminars, Webinars, And Online Training In Your Area
How To Get Your Insurance License In Pennsylvania
Step 1. Decide Your Pre-License Education
The first step in getting a Pennsylvania insurance license is taking pre-license education courses. These are state-required courses covering the subject matter - generally rules, definitions, and scenarios - that typically appears on the license exam. To fulfill the pre-license requirement, you must complete a certain amount of credit hours depending on the type of licenses you wish to attain.
Pennsylvania combines all of its pre-license education into one twenty-four (24) hour requirement, including three (3) hours of ethics coursework. This means that you will take the same amount of coursework whether you're getting just your Life Insurance License, or if you plan on getting Life, Accident, and Health and the Property and Casualty License. You will receive a certificate upon completion of the course. Keep this certificate, as you will need it when taking your exam.
Most applicants choose to take these courses online, as it fits their schedule better, but there are also in-person courses available. You should choose which format in which to take your courses based on your preferred method of learning. The goal isn't just to get the courses out of the way, it's to prepare you to pass your license exam on the first attempt.
Step 2. Take Multiple Insurance License Sample Practice Exams
The next step after completing all of your pre-license coursework is to take the insurance exam. You will take one exam for each line of insurance you wish to carry. Life, Accident, and Health (LA&H) and Property and Casualty (P&C) are combined into two exams.
This is a proctored test, which means that you will be in a controlled environment with a person watching you. For people who haven't tested in a situation like this should be aware of this fact, and work on taming their nerves prior to sitting for the exam.
That said, your best approach is to take as many practice exams as possible. With the sample practice questions that come with our Pennsylvania pre-licening courses, you will be able to pinpoint problem areas by building customized exams based on difficulty, length, and topic of your choice, as well as create online personal notes and bookmarks.
Once you have met pre-licensing education requirements, follow these steps:
Schedule your exam through PSI online (remember to bring your certificate of completion to the testing center on your exam day!)
Schedule and submit fingerprinting
Score 70 percent or greater to pass the exam
Apply for your license at NIPR
About Our Insurance Licensing Courses
Your career as an insurance agent starts with earning the right licenses. We can help you earn these licenses with our pre-licensing courses, study guides, and exam prep materials that are designed to help you pass your licensing exam and start your career as an Insurance Agent.
Our exam prep materials are delivered in an easy-to-understand manner that provides important insights and valuable exam tips and strategies covering your state's rules and regulations for insurance licensing. Here is just some of what you'll learn by using our pre-licensing courses and exam prep materials:
Downloadable/printable textbooks that utilizes short, focused paragraphs with numerous graphics and exercises to help you learn faster and retain critical information
OnDemand Online Video Review that can be viewed anytime, anywhere, and as frequently as you like
MP3 Audio Review
State law supplement
Tons of practice exam questions
Contact Info: Pennsylvania Insurance Licensing Requirements
To help with your examination scheduling, we have provided below information on Pennsylvania licensing requirements, its insurance department, and examination scheduling facilities.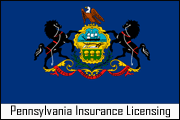 Pennsylvania Insurance Department | Bureau of Producer ServicesAddress:
1209 Strawberry Square | Harrisburg, PA 17120
Phone:
717.787.3840
Fax:
717.787.8553
Email:
ra-in-producer@state.pa.us
Website:
http://www.ins.state.pa.us
Examination SchedulingProvider:
PSI Exams
Phone:
1.800.733.9267
Website:
https://candidate.psiexams.com/index.jsp
Good luck passing your Pennsylvania P&C insurance licensing exam!
Other Insurance Licensing Courses For Pennsylvania:
Disclaimer
This information is based on state laws and regulations, and is subject to change. ABTrainingCenter makes every effort to make sure this information is current and accurate, however, ABTrainingCenter is not engaged in rendering legal or professional advice and shall not be held responsible for inaccuracies contained herein.