Pennsylvania P&C Licensing Classes & Exam Prep Materials
Best-Selling Training Courses:
Instructor-Led: Webinars
Online Training Courses
Pre-Licensing Courses And Exam Prep Materials For Earning A Pennsylvania Property And Casualty Insurance Licence
About The Pennsylvania Insurance License For Property And Casualty Insurance
Anyone selling property or casualty insurance in Pennsylvania is required to have the proper license. Here you will find everything you need to know about getting a P&C license, including pre-licensing requirements, the exam and how to prepare with the help of ABTrainingCenter.com.
What A Property And Casualty License In Pennsylvania Can Do For You
Some facts from the Pennsylvania Insurance Department: Pennsylvania ranks third in the number of dog bite liability claims...snowmobiles are usually not covered by homeowner's, renter's, or auto insurance...Only 34% of Americans have renters' insurance.
On these facts alone, you can see why almost everyone in Philadelphia, Pittsburgh, Allentown, Erie, Reading, Scranton, Bethlehem, Lancaster, Levittown, Harrisburg, and other Pennsylvania cities needs property and casualty insurance at some point in life. Pennsylvanians with a home or property to protect need this kind of insurance. If you can provide it, residents will come to you to meet their insurance requirements. If not, customers may go elsewhere for their insurance needs.
About Our Pennsylvania Property And Casualty Licensing Courses, Exam Prep Materials, And Sample Exam Questions
Getting the prelicensing coursework you need is easy with Agent Broker Training Center. We have online and self-study courses that cover all the material likely to appear on our P&C insurance licensing exam. These are state-approved courses that fulfill the prelicensing requirement and contain hundreds of practice exam questions.
These materials are delivered in a concise and easy-to-understand manner that provides important insight into what you are learning, plus provide valuable exam tips and strategies that cover the required rules and regulations specific to your state. You typically receive:
Both print and online tools
A comprehensive textbook that utilizes short, focused paragraphs with numerous graphics and exercises
A searchable FAQs database
Study Calendar
State Law Supplement that provides the most current state laws and regulations
Instructor Email Access
Hundreds of practice exam questions
Exam-taking tips
Video that can be viewed anytime, anywhere, and as frequently as you like
Agent Broker Training Center offers courses and study materials to help you meet pre-licensing requirements and make sure you're fully prepared to pass your property and casualty insurance licensing exam.
Our study courses are designed and administered by insurance experts who know exactly the kind of questions that are likely to appear on the exam. Put in the right amount of study hours, and you will be as prepared as you can be to take this test.
Use our property and casualty exam prep materials to test yourself with practice questions and solutions, pinpoint problem areas by building customized exams based on difficulty, length, and topic of your choice, and create online personal notes and bookmarks for future reference. Find the appropriate class for your prelicensing education below and click the link to get started.
Recommended Pennsylvania P&C Insurance Licensing Courses And Exam Prep Materials
To find Pennsylvania property and casualty insurance licensing courses, study guides, and exam prep materials, simply click on any of the recommended courses below or select "Property And Casualty" and your state from the "Licensing" section of the search box below. Good luck passing your Pennsylvania P&C insurance licensing exam and becoming a Pennsylvania insurance agent!
Best-Selling Training Courses:
Instructor-Led: Webinars
Online Training Courses
Find Seminars, Webinars, And Online Training In Your Area
How To Become A Pennsylvania Property And Casualty Insurance Agent

Pre-License Requirements For Becoming A Pennsylvania P&C Insurance Agent
You must meet a pre-licensing requirement before you can sit for the Pennsylvania property and casualty insurance licensing exam. Fortunately, Agent Broker Training Center has a state-approved course that allows you to do just that. When you complete the coursework and pass the final exam, you will receive a certificate of completion that proves you have met the pre-licensing requirement.
Pennsylvania Property And Casualty Exam Requirements
First, schedule the exam with PSI online or by phone at 1-800-733-9267. There is a $53 fee for the combined property and casualty exam. Be sure to bring your completion certificate and a valid government-issued photo I.D. to the test.
The property and casualty insurance exam consists of 150 multiple-choice questions and takes two hours and fifty minutes to complete. If you answer 70 percent or more of the questions correctly, you pass.
Once you pass, you must get fingerprinted for a background check by going online at IdentoGO or calling 844-321-2101. After the background check is complete, you can apply for your license online at NIPR.
Contact Info: Pennsylvania Property And Casualty License Requirements
To help with your examination scheduling, we have provided below information on Pennsylvania licensing requirements, its insurance department, and examination scheduling facilities.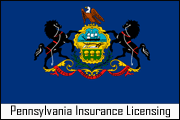 Pennsylvania Insurance Department | Bureau of Producer ServicesAddress:
1209 Strawberry Square | Harrisburg, PA 17120
Phone:
717.787.3840
Fax:
717.787.8553
Website:
http://www.ins.state.pa.us
Examination SchedulingProvider:
PSI Exams
Phone:
1.800.733.9267
Website:
https://candidate.psiexams.com/index.jsp
Good luck passing your Pennsylvania P&C insurance licensing exam!
Other Insurance Licensing Courses For Pennsylvania:
Disclaimer
This information is based on state laws and regulations, and is subject to change. ABTrainingCenter makes every effort to make sure this information is current and accurate, however, ABTrainingCenter is not engaged in rendering legal or professional advice and shall not be held responsible for inaccuracies contained herein.