Pennsylvania Adjuster License Training & Exam Prep Classes
Earn Your Pennsylvania Insurance Adjuster License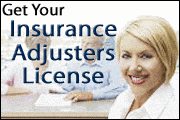 Looking to advance your career in the insurance industry? Consider becoming a Pennsylvania insurance claims adjuster. Virtually all insurance companies use adjusters to stay operational and determine the outcomes of claims.
What Is An Insurance Claims Adjuster?
When a claim is filed, an insurance adjuster goes into the field and investigates the claim by examining sites, doing research and talking to witnesses. They determine if the insurance company is responsible for the claim and to what degree. Insurance companies depend on the knowledge and good judgment of claims adjusters.
What Does A Pennsylvania Insurance Claims Adjuster Do?
An Adjuster inspects property damage or personal injury claims in Philadelphia, Pittsburgh, Allentown, Erie, Reading, Scranton, Bethlehem, Lancaster, Levittown, Harrisburg, and other cities to determine how much the insurance company should pay for the loss. They might inspect a home, a business, or a vehicle to determine how much the insurance company should pay out.
Though the process for reviewing a home versus a car claim may very somewhat, to determine the amount of payout, an Adjuster might interview the claimant and/or witnesses, inspect the damaged property, do additional research such as look at photos, police reports, or doctor/hospital records, evaluate damage, ascertain payout amount, and communicate with the insurance agent and/or client. According to Wikipedia, they:
Verify an insurance policy exists for the insured person and/or property
Identify coverages for which the insured is covered
Evaluate the covered injuries and/or damages
Complete applicable paperwork
Negotiate a settlement according to the applicable laws
Pennsylvania Insurance Adjuster Requirements
The state of Pennsylvania requires a license to become a public adjuster. A standard insurance claims adjuster requires no specific training or courses. You do not have to pass a Pennsylvania insurance adjuster exam or obtain a claims adjuster license.Many insurance claims adjusters get started at an insurance company by learning on the job. Although you do not need a license, the more you know about insurance adjusting, the more likely you are of being hired
Getting Hired As An Insurance Claims Adjuster In Pennsylvania
To maximize your employment opportunities, you may want to procure a license from another state. Certain states, like Texas and Florida, allow non-residents to apply for an insurance adjuster license and designate that state as their "home state" for adjuster licensing purposes. Catastrophe adjusters, who typically work across state lines, tend to take this option.
We also highly recommend that you master Xactimate, the leader in insurance claims adjusting software. Learning this software will expand your knowledge of insurance claims adjusting and give you an advantage in the hiring market.
You will find high-quality courses to prepare for the Texas all-lines adjuster exam and learn Xactimate by clicking the appropriate links below.
Recommended Pennsylvania Insurance Adjuster Licensing Courses, Study Guides, And Exam Prep Materials
AB Training Center provides approved Pennsylvania Adjuster training classes, study guides, and exam prep materials needed to obtain your Pennsylvania Insurance Adjuster license. We have everything you need to prepare yourself for the Pennsylvania Claims Adjuster exam. Simply select from the recommended courses below, or search under "Licensing" in the search box thereafter for "Insurance-Adjusters".
Also Available: Xactimate Training Courses
We also have courses to help you familiarize yourself with Xactimate software. If you aren't familiar with Xactimate already, you'll know all about it once you start working as an adjuster. This is critical claims estimating software and we can show you how to use it the right way.
Recommended Training Courses:
Online Training Courses
Webinars Or Audio Conferences
Find Seminars, Webinars, And Online Training In Your Area
Licensing Info For How To Become A Pennsylvania Adjuster
Below is information on the licensing requirements for becoming an Pennsylvania Insurance Adjuster, its insurance department, and examination scheduling facilities.
License Requirements For Pennsylvania Adjusters
Applicant must be 18 years old or older as determined from the applicant's Date of Birth
If applicant's license has a status reason of Voluntary Surrender, applicant must reapply as new applicant through NRAL application
Applicants applying for the license NON-RES PUBLIC ADJUSTER are required to have a surety bond in the amount of no less than $20,000. Bond must be obtained prior to transacting business as a public adjuster in Pennsylvania
Applicants applying for the NON-RES PUBLIC ADJUSTER license must use a contract approved by the Pennsylvania Insurance Department
Applicants applying for the NON-RES Public Adjuster license class cannot reapply through initial application from 1 to 60 days after license expiration. Applicant is allowed to late renew through NRAR up to 60 days following license expiration date. Applicant can reapply starting the 61st day following license expiration
Contact Info For Your Pennsylvania Claims Adjuster Licensing Exam
To help with your examination scheduling, we have provided below information on Pennsylvania licensing requirements, its insurance department, and examination scheduling facilities.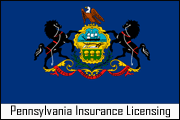 Pennsylvania Insurance Department | Bureau of Producer ServicesAddress:
1209 Strawberry Square | Harrisburg, PA 17120
Phone:
717.787.3840
Fax:
717.787.8553
Email:
ra-in-producer@state.pa.us
Website:
https://www.insurance.pa.gov/Licensees/Pages/default.aspx
Examination SchedulingProvider:
PSI Exams
Phone:
1.800.733.9267
Website:
https://candidate.psiexams.com/index.jsp
Good luck passing your Claims Adjuster insurance licensing exam!
How To Get Your Insurance License In Pennsylvania
Step 1. Decide Your Pre-License Education
The first step in getting a Pennsylvania insurance license is taking pre-license education courses. These are state-required courses covering the subject matter - generally rules, definitions, and scenarios - that typically appears on the license exam. To fulfill the pre-license requirement, you must complete a certain amount of credit hours depending on the type of licenses you wish to attain.
Pennsylvania combines all of its pre-license education into one twenty-four (24) hour requirement, including three (3) hours of ethics coursework. This means that you will take the same amount of coursework whether you're getting just your Life Insurance License, or if you plan on getting Life, Accident, and Health and the Property and Casualty License. You will receive a certificate upon completion of the course. Keep this certificate, as you will need it when taking your exam.
Most applicants choose to take these courses online, as it fits their schedule better, but there are also in-person courses available. You should choose which format in which to take your courses based on your preferred method of learning. The goal isn't just to get the courses out of the way, it's to prepare you to pass your license exam on the first attempt.
Step 2. Take Multiple Insurance License Sample Practice Exams
The next step after completing all of your pre-license coursework is to take the insurance exam. You will take one exam for each line of insurance you wish to carry. Life, Accident, and Health (LA&H) and Property and Casualty (P&C) are combined into two exams.
This is a proctored test, which means that you will be in a controlled environment with a person watching you. For people who haven't tested in a situation like this should be aware of this fact, and work on taming their nerves prior to sitting for the exam.
That said, your best approach is to take as many practice exams as possible. With the sample practice questions that come with our Pennsylvania pre-licening courses, you will be able to pinpoint problem areas by building customized exams based on difficulty, length, and topic of your choice, as well as create online personal notes and bookmarks.
Disclaimer
This information is based on state laws and regulations, and is subject to change. ABTrainingCenter makes every effort to make sure this information is current and accurate, however, ABTrainingCenter is not engaged in rendering legal or professional advice and shall not be held responsible for inaccuracies contained herein.