Pennsylvania Life & Health Licensing And Exam Prep Materials
How To Earn Your Pennsylvania Life And Health License
Interested in earning a Pennsylvania life and health insurance license? AB Training Center provides Pennsylvania insurance exam training for individuals who wish to earn a Pennsylvania Life and Health license. We offer in-person and online training courses to satisfy the pre-licensing requirement for the state of Pennsylvania.
Pennsylvania Life And Health Insurance Pre-Licensing Courses And Exam Prep Materials
We offer Pennsylvania Life & Health insurance exam prep courses via in-person classroom and online courses. Click the applicable links below for details:
What Does A Pennsylvania Life And Health Agent Do?
A Life And Health Insurance Agent (also known as "Life, Health, And Accident) sells Life, Disability, Long Term Care, Medicare, and other policies to groups and individuals. As a licensed broker of life and health insurance, you can be the one that individuals and families in Philadelphia, Pittsburgh, Allentown, Erie, Reading, Scranton, Bethlehem, Lancaster, Levittown, Harrisburg, and other Pennsylvania cities turn to protect themselves and their families.
As a Life & Health Agent, you advise clients on what policies best suit their needs, tailor policies to fit their requirements, and help customers when they have questions or need to change their coverage. Ideally, the relationship with your clients will be a long-term one, so you should stay current on your customers' needs, including adding or lowering coverage levels as people age or acquire more wealth or have changing needs.
Education Requirements For A Pennsylvania Life And Health License
In the state of Pennsylvania, you must complete 24 hours of pre-licensing education prior to sitting for the state exam. To meet this requirement, you simply need to choose your preferred pre-licensing course from the list above. Once you have successfully completed the course, you will receive a certificate of completion. That certificate is what you need to be able to schedule and sit for your state exam.
To schedule your state exam, you will contact PSI testing centers (1-800-733-9267) to find a location near you. Please note: it is suggested that you register at least 4-5 business days in advance.
Recommended Pennsylvania Life & Health Insurance Licensing Courses, Study Guides, And Exam Prep Materials
AB Training Center provides the required Pennsylvania Life and Health insurance training classes, study guides, and exam prep materials needed to obtain your Pennsylvania Life & Health Insurance license. Simply select one of the combined licensing courses (meaning both Life AND Health) above or search below for one of our single line licensing courses (meaning Life OR Health). Good luck earning your Pennsylvania Life & Health insurance license.
Top FAQs
Do I Need A License To Sell Insurance In Pennsylvania?
Yes. You must be licensed by the state in which they wish to sell insurance.
What Are The Pros And Cons Of Being An Insurance Agent In Pennsylvania?

Pros include flexible work schedules, high incomes via commissions, and helping your neighbors. Cons include low pay if you don't produce, pressure of working in a sales position.
What Does My State's Pre-Licensing Course Cover?

The Life and Health insurance exam encompasses the fundamentals of the various types of life insurance products, such as whole life, term life, universal life and annuities, as well as health insurance offerings such as PPOs, HMOs and Major Medical. You'll need to understand all the policy components, such as riders, exclusions, amendments and provisions and how they apply to real-world scenarios. Most states also include questions regarding state-specific insurance regulations as well as the ethics of selling insurance products to ensure that agents meet the clients' needs.
What Type Of Courses Do You Offer For Earning My Pennsylvania Insurance License?

We offer online and Instructor-led courses for taking your state's required pre-licensing course and earning your Pennsylvania Insurance license.
How To Become A Pennsylvania Life & Health Insurance Agent
Below is information on the licensing requirements for becoming a Pennsylvania Life & Health Insurance Agent, its insurance department, test requirements, and examination scheduling facilities.
What Is On The Pennsylvania Life and Health Insurance Exam?
Since Life & Health licensing is state specific, your exam will include questions on your state's insurance regulations for the product(s) you want to sell. Your exam covers topics such as the following:
Insurance regulations
Life insurance basics
Health insurance basics
Disability insurance
Group health insurance
Policy Provisions
Tax considerations for health insurance
State regulations
How To Get Your Insurance License In Pennsylvania
Step 1. Purchase Your Pre-License Education Course
Before attempting to take the insurance license exam you'll need to be sure you're well prepared. Since PA requires pre-licensing before you can sit for the state exam it is not something to take lightly.
What we have found is that the majority of the non-pass attempts are people who come to the exam having studied for the bare minimum number of hours. Once they take the exam and realize that most of the questions can't be answered with common knowledge, they go back and have to put in more study time, then go back a second time and pass.
Since we want you to pass the first time you take the exam, we recommend that you take your studies seriously before attempting the test. Insurance license exam fees aren't cheap, so save yourself some time and money by doing it right the first time.
Step 2. Take Multiple Insurance License Sample Practice Exams
The next step after completing all of your pre-license coursework or self-study is to take the insurance exam. You will take one exam for each line of insurance you wish to carry. To ensure you pass your exam to become a licensed Pennsylvania Insurance Agent, your best approach is to take as many practice exams as possible.
With the sample practice questions that come with our Pennsylvania pre-licening courses, you will be able to build customized exams based on difficulty, length, and topic of your choice, as well as create online personal notes and bookmarks.
Contact Info For Your Pennsylvania Life & Health Insurance Licensing Exam
To help with your examination scheduling, we have provided below information on Pennsylvania licensing requirements, its insurance department, and examination scheduling facilities.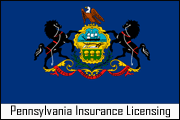 Pennsylvania Insurance Department | Bureau of Producer ServicesAddress:
1209 Strawberry Square | Harrisburg, PA 17120
Phone:
717.787.3840
Website:
https://www.insurance.pa.gov/Licensees/Pages/default.aspx
Examination SchedulingProvider:
PSI Exams
Phone:
1.800.733.9267
Website:
https://candidate.psiexams.com/index.jsp
Good luck passing your Life & Health insurance licensing exam!
Other Insurance Licensing Courses For Pennsylvania:
Disclaimer
This information is based on state laws and regulations, and is subject to change. ABTrainingCenter makes every effort to make sure this information is current and accurate, however, ABTrainingCenter is not engaged in rendering legal or professional advice and shall not be held responsible for inaccuracies contained herein.