Georgia Insurance License Requirements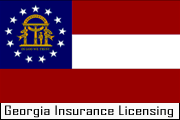 How To Earn A Georgia Insurance License
Searching for Georgia insurance training courses to earn your Georgia Insurance License? Then you've come to the right place!
ABTrainingCenter.com offers state-approved insurance licensing for GA for those individuals who are interested in becoming an Insurance Agent or earning some other type of Georgia insurance license.
Below are links for our best-selling Georgia Life & Health, Property & Casualty, or Adjuster insurance licensing courses, as well as information and links for you to read about specific requirements for each license type.
Georgia Insurance Pre-Licensing Requirements
A Georgia Insurance License is regulated at the state level and, as such, state government establishes its own insurance licensing requirements and examination procedures. Below below for how to become an insurance agent in Georgia, including Georgia's pre-licensing requirements for each line of insurance:
General RequirementsAdjuster LicenseLife, Accident & Sickness LicenseLife Insurance LicenseAccident & Sickness Insurance LicenseProperty and Casualty License
Recommended Courses For Georgia Life, Health, P&C, And Adjuster Licensing
To find Georgia insurance licensing training courses, study guides, practice exams, and exam prep materials, simply click on any of the recommended courses below or select your desired license type and your state from the "Licensing" section of the search box below. Good luck becoming an Georgia insurance agent!
How To Become An Insurance Agent In Georgia
How do you get started learning how to become an insurance agent in Georgia? By reading this page, you already have! Herein you will find all the information you need to earn a Georgia insurance license, including the specific Georgia license requirements for:
Life And Health:
If you wish to help Georgia residents find peace of mind in the knowledge that they and their families will be taken care of during a health emergency, you can apply for the life insurance license and the accident and sickness insurance license or the combined life, accident and health insurance license. Each line requires 20 hours of prelicensing, which you can earn with a Georgia insurance license training course from Agent Broker Training Center.
Property And Casualty:
Unlike life, accident and health, which can be split into individual lines, the property and casualty license is always a combined license in Georgia. This means you will have a combined property and casualty prelicensing requirement of 40 hours of education. Find the Georgia insurance license class you need to fulfill this requirement by clicking the links or filling out the search form below.
Insurance Adjuster:
Although some states do not require it, you must have an insurance adjuster's license if you wish to work in this area in Georgia. However, you can designate Texas as your home state and earn the DHS Adjuster License, which allows you to adjust in Texas, Georgia and other states.
As a licensed insurance broker in Georgia, you can help residents of Atlanta, as well as other major Georgia cities like Savannah, Athens, and Augusta, find plans they can afford and that provide them with the coverage they need.
Georgia Insurance License Requirements: How To Get Your Georgia Insurance License
Step 1. Pre-License Education
The first step in getting a Georgia insurance license is taking pre-license education courses. These are state-required courses pertaining to the subject matter that will be on the license exam.
To fulfill the Georgia pre-license requirement, you must complete forty (40) hours of education coursework per line of authority that you wish to hold. The good news: Life, Accident, & Sickness (LA&S) and Property & Casualty (P&C) lines are combined lines in Georgia, so unlike states where you must take a separate exam for each coverage area, you need to take only two exams if you wish to get a license for both Life & Health and P&C.
You will receive a certificate upon completion of the course. Keep this certificate, as you will need it when submitting your application.
Step 2. Fill Out You Georgia License Application And Schedule Your Exam
You must take an exam for each line of insurance you wish to carry, so after you have completed your required pre-licensing education, the next step is to apply for your license and schedule your exam (or exams if applying for more than one type of license). We have provided contact information for Georgia insurance licensing herein.
Tip: Whether you take on in-person, online, or self-studay Georgia pre-licensing course, all come with many sample exam questions. We suggest you take as many of these sample exams as possible, so you might want to leave two weeks between when you pass your pre-licensing course and your exam date.
Contact Info: Georgia Insurance Licensing Requirements
Georgia Insurance Department - Licensing DivisionAddress:
908 West Tower | 2 Martin Luther King, Jr. Dr. | Floyd Memorial Building | Atlanta, GA 30334
Phone:
404.656.2101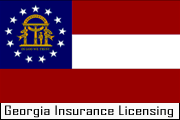 Fax:
404.656.0874
Email:
agents@mail.oci.state.ga.us
Website:
https://oci.georgia.gov/agents-agency-licensing
Examination SchedulingProvider:
Pearson VUE
Phone:
1-800-274-0488
Website:
http://www.pearsonvue.com/ga/insurance/
Other Insurance Licensing Courses For Georgia:
Disclaimer
This information is based on state laws and regulations, and is subject to change. ABTrainingCenter makes every effort to make sure this information is current and accurate, however, ABTrainingCenter is not engaged in rendering legal or professional advice and shall not be held responsible for inaccuracies contained herein.