Georgia Life and Health Insurance License Courses
About Our Georgia Life And Health Insurance License Classes
AB Training Center provides Georgia Insurance Exam Training for individuals who wish to earn a Georgia Life and Health License. We offer a variety of formats and training courses to satisfy the pre-licensing requirement for the state of GA.
Georgia Life and Health Insurance Pre-Licensing Courses
We offer GA Life & Health Insurance Exam Prep in live in-person classroom and online formats. Click the applicable links below for details:
How To Get Your Insurance License In Georgia
Requirements For a Georiga Life and Health License
1.
Fulfill The Georgia Pre-License Education Requirements
The first step in getting a Georgia insurance license is taking pre-license education courses. These are state-required courses pertaining to the subject matter that will be on the license exam.
To fulfill the Georgia pre-license requirement, you must complete forty (40) hours of education coursework per line of authority that you wish to hold. The good news: Life, Accident, & Sickness (LA&S) and Property & Casualty (P&C) lines are combined lines in Georgia, so unlike states where you must take a separate exam for each coverage area, you need to take only two exams if you wish to get a license for both Life & Health and P&C. In the state of Georgia, you must complete 40 hours of pre-licensing education prior to sitting for the state exam. For Life Only or Health Only, it is a 20 hour requirement.
You will receive a certificate upon completion of the course. Keep this certificate, as you will need it when submitting your application.
2.
Fill Out Your Georgia License Application And Schedule Your Exam
You must take an exam for each line of insurance you wish to carry, so after you have completed your required pre-licensing education, the next step is to apply for your license and schedule your exam (or exams if applying for more than one type of license). We have provided contact information for Georgia insurance licensing herein.
Tip: Whether you take on in-person, online, or self-studay Georgia pre-licensing course, all come with many sample exam questions. We suggest you take as many of these sample exams as possible, so you might want to leave two weeks between when you pass your pre-licensing course and your exam date.
To start the process of earning your Georgia Life & Health Insurance license, simply choose your preferred pre-licensing course from the list above. Once you have successfully completed the course, you will receive a certificate of completion. That certificate is what you need to be able to schedule and sit for your state exam. To schedule your state exam, contact Pearson Vue testing centers (1-800-274-0488) to find a location near you. Please note: it is suggested that you register at least 4-5 business days in advance.
Recommended Georgia Life And Health Insurance Courses And Exam Prep Materials
To find Georgia Life and Health insurance licensing courses and exam prep materials, simply click on any of the recommended courses below or select "Life & Health" and your state from the "Licensing" section of the search box below. Good luck passing your Georgia Life & Health insurance licensing exam!
Interested in Georgia Life Only or Health Only Insurance Pre-Licensing?
We also offer exam prep for Life Only or Health Only license. Simply select from the Recommended Courses below.
Find Seminars, Webinars, And Online Training In Your Area
Contact Info: Georgia Life And Health Insurance License Requirements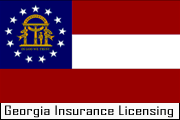 Georgia Insurance Department - Licensing DivisionAddress:
908 West Tower | 2 Martin Luther King, Jr. Dr. | Floyd Memorial Building | Atlanta, GA 30334
Phone:
404.656.2101
Fax:
404.656.0874
Email:
agents@mail.oci.state.ga.us
Website:
https://oci.georgia.gov/agents-agency-licensing
Examination SchedulingProvider:
Pearson VUE
Phone:
1-800-274-0488
Website:
http://www.pearsonvue.com/ga/insurance/
Other Insurance Licensing Courses For Georgia:
Disclaimer
This information is based on state laws and regulations, and is subject to change. ABTrainingCenter makes every effort to make sure this information is current and accurate, however, ABTrainingCenter is not engaged in rendering legal or professional advice and shall not be held responsible for inaccuracies contained herein.