Ohio Insurance License Requirements
How To Earn An Ohio Insurance License By Using Our Pre-Licensing Courses And Exam Prep Materials
Want to become an insurance agent in Ohio? Searching for Life & Health, Property & Casualty, or Adjuster insurance licensing training courses to earn your Ohio Insurance License?
If yes, then you've come to the right place, as we offer pre-licensing courses, study guides, practice tests, and exam prep materials to help you earn insurance license and to sell insurance to groups and individuals in Columbus, Cleveland, Cincinnati, Toledo, Akron, Dayton, Parma, Canton, Youngstown, and other cities in Ohio.
Ohio Insurance Licensing Requirements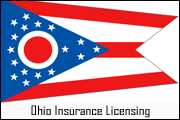 Ohio has six major lines of "Authority":
Accident & Health: Insurance coverage for sickness, bodily injury, or accidental death, and may include benefits for disability income
Casualty: Insurance coverage against legal liability, including coverage for death, injury, or disability or damage to real or personal property
Life: Insurance coverage on human lives, including benefits of endowment and annuities, and may include benefits in the event of death or dismemberment by accident and benefits for disability income
Personal: Is property & casualty insurance coverage sold to individuals and families for noncommercial purposes
Property: Insurance coverage for the direct or consequential loss or damage to property of any kind
Variable Life and Variable Annuity products: Insurance coverage provided under variable life insurance contracts and variable annuities
To become an insurance agent in Ohio, you must meet all insurance license requirements, including completing the required pre-licensing education hours. Read below for more information on the pre-licensing requirements and exemptions for each line of authority.
General Requirements
Applicant must be at least eighteen (18) years old or older as determined from the applicant's date of birth
Non-citizens of the U.S. must show proof of U.S. work authorization. Applicant must provide a copy of a work permit issued by the Department of Immigration
Complete 20 hours (for a single line) or 40 hours (for a combined line) of required pre-licensing education through a state-approved Ohio insurance training course, such as from Agent Broker Training Center. Click the icon(s) below for the requirements per license type
Pass the pre-licensing final exam and receive a certificate of completion
Schedule your Ohio insurance license exam online through PSI. Bring your certificate of completion with you to the licensing exam
Successfully pass the required licensing examination by getting 70 percent or more correct
Complete electronic criminal background check
Apply for your license at NIPR
Life, Accident and Health License
At Agent Broker Training Center, our online life and health insurance license classes cover both lines of authority. The course discusses topics such as life insurance basics, annuities, disability insurance, medical plans and health insuring corporations. View specific requirements and exemptions for this line:
Complete 20 hours of life and health pre-licensing education
Pre-Licensing Course Exemption: Candidates that hold a CLU® professional designation may be exempt from pre-licensing. Even so, we highly recommend taking the appropriate coursework to help you prepare for the exam
Property and Casualty License
With our online P&C insurance license training course, you can satisfy pre-licensing requirements and prepare for the Ohio insurance license examination for both property and casualty. The class covers topics such as homeowner policies, businessowner policies, auto insurance and property and casualty insurance basics. View specific requirements and exemptions for this line:
Complete 40 hours of property and casualty pre-licensing coursework
Pre-Licensing Course Exemption: Candidates that hold a CPCU® professional designation may be exempt from pre-licensing. Exempted candidates are highly encouraged to enroll in an insurance license class to help prepare for the exam.
Adjuster License
Ohio does not require insurance adjusters to be licensed. Agent Broker Training Center offers insurance adjuster training courses for those who wish to be licensed as a non-resident in a Designated Home State such as Florida or Texas.
About Our Ohio Insurance Licensing Courses And Exam Prep Materials
Your career as an insurance agent starts with earning the right licenses. We can help you earn these licenses with our pre-licensing courses, study guides, and exam prep materials that are designed to help you pass your licensing exam and start your career as an Insurance Agent. Simply click the respective icon(s) below to view the requirements - and recommended pre-licensing courses - for that license type.
Recommended Pre-Licensing Courses And Exam Prep Materials For Ohio Life, Health, P&C, And Adjuster Licensing
To find Ohio insurance licensing courses, study guides, practice exams, and exam prep materials, simply click on any of the recommended courses below or select your desired license type and your state from the "Licensing" section of the search box below. Good luck becoming an Ohio insurance agent!
Find Seminars, Webinars, And Online Training In Your Area
What Do Insurance Agents Do In Ohio?
What Does An Ohio Life And Health Agent Do?
A Life And Health (L&H) Insurance Agent (in some states, also known as "Life, Health, And Accident) sells Life, Disability, Long Term Care, Medicare, and other policies to groups and individuals. As a Life & Health Agent, you advise clients on what policies best suit their needs, tailor policies to fit their requirements, and help customers when they have questions or file a claim.
What Does An Ohio Property And Casualty Agent Do?
A Property And Casualty (P&C) Insurance Agent sells policies on homes, apartments, vehicles, and other items that cover liability for property damage or injuries to visitors injured on your property. As a P&C Agent, you advise clients on what policies best suit their needs, tailor policies to fit their requirements, and help customers when they file a claim.
What Does An Insurance Adjuster Do In Ohio?
An Adjuster inspects property damage or personal injury claims to determine how much the insurance company should pay for the loss. They might inspect a home, a business, or a vehicle, then analyze the situation, talk to witnesses, do research and otherwise investigate to make sure the claim is legitimate and the claimant gets a settlement that is fair based on the parameters of their policy.
Tips For Earning An Insurance License
Step 1. Purchase Your Pre-License Education Course
Before attempting to take the insurance license exam you'll need to be sure you're well prepared. Since there is a fee for every attempt at the test, and the national first-time pass rate is between 50%-60%, it is not something to take lightly.
What we have found is that the majority of the non-pass attempts are from individual who don't study enough. Once they take the exam and realize that most of the questions can't be answered with common knowledge, they go back and purchase real study materials, then go back a second time and pass.
Since we want you to pass the first time you take the exam, we recommend that you take your studies seriously, and either take an online course or get a textbook before attempting the test. Insurance license exam fees aren't cheap, so save yourself some time and money by doing it right the first time.
Step 2. Take Multiple Insurance License Sample Practice Exams
The next step after completing all of your pre-license coursework or self-study is to take the insurance exam. You will take one exam for each line of insurance you wish to carry. To ensure you pass your exam to become a licensed Insurance Agent, your best approach is to take as many practice exams as possible.
Contact Info: Ohio Insurance Licensing
To help with your examination scheduling, we have provided below information on Ohio licensing requirements, its insurance department, and examination scheduling facilities.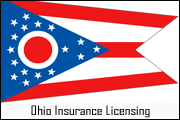 Ohio Department of InsuranceAddress:
50 W. Town street | Third Floor - Suite 300 | Columbus, OH 43215
Phone:
614.644.2665
Fax:
614.644.3475
Email:
licensing@ins.state.oh.us
Website:
http://www.ohioinsurance.gov
Examination SchedulingProvider:
Prometric
Phone:
877-346-4014
Website:
http://www.prometric.com/Ohio/Insurance.htm
Good luck passing your Ohio P&C insurance licensing exam!
Other Insurance Licensing Courses For Ohio:
Disclaimer
This information is based on state laws and regulations, and is subject to change. ABTrainingCenter makes every effort to make sure this information is current and accurate, however, ABTrainingCenter is not engaged in rendering legal or professional advice and shall not be held responsible for inaccuracies contained herein.