Ohio P&C Insurance License Training & Exam Prep Classes
Best-Selling Training Courses:
Instructor-Led: Webinars
Online Training Courses
Ohio Property And Casualty Pre-Licensing Courses And Exam Prep Materials
About The Ohio Insurance License For Property And Casualty
Earning a property and casualty insurance license is required if you wish to sell property or casualty insurance in Ohio. ABTrainingCenter.com provides all the information and coursework you need to pass the licensing exam and earn your license. Read on to learn everything you need to know about pre-licensing requirements, the licensing exam and how to prepare.
The Benefits Of A Property And Casualty License In Ohio
You have the opportunity to build a large client base if you can sell the insurance that residents need. Among the most commonly requested types of insurance are property and casualty policies. By obtaining your property and casualty license in Ohio, you can provide a highly needed service to your Ohio clients and grow your business.
To that end, Ohio has several large cities, including Cleveland, Cincinnati, Toledo, Akron, Dayton, Parma, Canton, Youngstown, and Columbus, the state capitol. About one in 30 insured homes in Ohio has a property damage claim, thus making Ohio a good place to offer P&C coverage.
Ohio's most common disasters are tornadoes, snow, and floods, though most insurance claims are for property damage. Most recently, the types of claims included fire, lightning, water damage, wind and hail, theft, and bodily injury. FYI: The term property and casualty insurance typically contains two primary coverage types: liability coverage and property protection coverage. As it relates to a homeowner's insurance policy, property and casualty insurance may cover your belongings and/or another individual's expenses.
About Our Ohio Property And Casualty Licensing Courses, Exam Prep Materials, And Sample Exam Questions
Getting the prelicensing coursework you need is easy with Agent Broker Training Center. We have online, live, and self-study courses that cover all the material likely to appear on a property and casualty insurance licensing exam. These are approved courses that fulfill the prelicensing requirement with certification exams available.
These materials are delivered in a concise and easy-to-understand manner that provides important insight into what you are learning, plus provide valuable exam tips and strategies that cover the required rules and regulations specific to your state. You typically receive:
Both print and online tools
A comprehensive textbook that utilizes short, focused paragraphs with numerous graphics and exercises
A searchable FAQs database
Study Calendar
State Law Supplement that provides the most current state laws and regulations
Instructor Email Access
Hundreds of practice exam questions
Exam-taking tips
Video that can be viewed anytime, anywhere, and as frequently as you like
Use our property and casualty exam prep materials to test yourself with practice questions and solutions, pinpoint problem areas by building customized exams based on difficulty, length, and topic of your choice, and create online personal notes and bookmarks for future reference. Find the appropriate class for your prelicensing education below and click the link to get started.
Recommended Ohio P&C Insurance Licensing Courses And Exam Prep Materials
Not sure where to begin meeting pre-licensing requirements or studying for your licensing exam? You've come to the right place! Agent Broker Training Center specializes in dedicated instruction, online coursework, and comprehensive study materials. We design our courses and materials to help you study exactly what you need to pass the property and casualty licensing exams.
To find Ohio property and casualty insurance licensing courses, study guides, and exam prep materials, simply click on any of the recommended courses below or select "Property And Casualty" and your state from the "Licensing" section of the search box below. Good luck passing your Ohio P&C insurance licensing exam and becoming an Ohio insurance agent!
Best-Selling Training Courses:
Instructor-Led: Webinars
Online Training Courses
Find Seminars, Webinars, And Online Training In Your Area
How To Become A Property And Casualty Insurance Agent In Ohio
Ohio P&C Pre-License Requirements For Resident Agents
You are required to complete a state-approved pre-licensing course in order to sit for the Ohio licensing exam. Fortunately, we have state-approved courses for property and casualty insurance that meet these pre-licensing requirements. When you complete your course, you will be given a certification test. If you pass this test, you will receive a certificate of completion that you use to gain admittance to the licensing exam.
Ohio Property And Casualty Exam Requirements
After receiving your pre-licensing certification, schedule your exam online with PSI or call 1-800-733-9267. Expect a fee of $42 for the exam. When you arrive at the testing location, you must have your certificate of pre-licensing completion with you. You will also need two forms of valid identification from a government agency, such as a driver's license or passport. At least one form needs to have a photo.
The combined Ohio property and casualty insurance exam is 150 multiple-choice questions. You have two and a half hours to complete the exam. A score of 70 percent correct or greater will give you a passing grade. You will be informed immediately with a printed score report whether you have passed or failed. If you pass, your next step is to submit to a fingerprinting and background check, which you can set up online.
Once you have passed the exam and taken care of the background check, you can apply for your license online at NIPR. If everything is in order, you should receive your license shortly.
Tips For Passing The Ohio Property And Casualty Insurance Licensing Exam
Start by committing a specific amount of time each day or week to study
Read all the course content and exam prep materials
Make sure you know your definitions and state regulations (remember, they are testing you on the rules and regualtions, not how to sell insurance!)
Take as many practice exams as possible, then take some more
When taking the exam:
Read every answer. Don't select the first response that looks correct; read all of them!
Don't spend too much time on any one question
Contact Info: Ohio Property And Casualty License Requirements
To help with your examination scheduling, we have provided below information on Ohio licensing requirements, its insurance department, and examination scheduling facilities.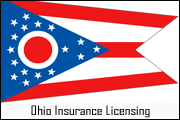 Ohio Department of InsuranceAddress:
50 W. Town street | Third Floor - Suite 300 | Columbus, OH 43215
Phone:
614.644.2665
Fax:
614.644.3475
Email:
licensing@ins.state.oh.us
Website:
http://www.ohioinsurance.gov
Examination SchedulingProvider:
PSI
Phone:
800.733.9267
Website:
http://www.psiexams.com
Good luck passing your Ohio P&C insurance licensing exam!
Other Insurance Licensing Courses For Ohio:
Disclaimer
This information is based on state laws and regulations, and is subject to change. ABTrainingCenter makes every effort to make sure this information is current and accurate, however, ABTrainingCenter is not engaged in rendering legal or professional advice and shall not be held responsible for inaccuracies contained herein.