Ohio Insurance Adjuster License Training & Exam Prep Classes
How To Earn Your Ohio Insurance Adjuster License
Interested in getting into the insurance business in Ohio, but don't see yourself as a sales person? If so, then a career as an insurance claims adjuster may be a good fit for you. Insurance adjusters meet a vital need for an insurance company, and the best ones can enjoy high salaries and job security.
What Is An Insurance Claims Adjuster? What Does An Ohio Insurance Claims Adjuster Do?
Insurance claims adjusters determine if an insurance claim is valid and what it is worth. Your job is to investigate the event that has triggered the claim and find out how accurate the claimant's contention is. Ultimately, you decide if the claim is valid and how much your company should pay.
What Does An Ohio Claims Adjuster Do?
An Adjuster inspects property damage or personal injury claims in Columbus, Cleveland, Cincinnati, Toledo, Akron, Dayton, Parma, Canton, Youngstown, and other Ohio cities to determine how much the insurance company should pay for the loss. They might inspect a home, a business, or a vehicle to determine how much the insurance company should pay out.
Though the process for reviewing a home versus a car claim may very somewhat, to determine the amount of payout, an Adjuster might interview the claimant and/or witnesses, inspect the damaged property, do additional research such as look at photos, police reports, or doctor/hospital records, evaluate damage, ascertain payout amount, and communicate with the insurance agent and/or client. According to Wikipedia, they:
Verify an insurance policy exists for the insured person and/or property
Identify coverages for which the insured is covered
Evaluate the covered injuries and/or damages
Complete applicable paperwork
Negotiate a settlement according to the applicable laws
FYI: Ohio's most common disasters are tornadoes, snow, and floods, though most insurance claims are for property damage. Most recently, the types of claims included fire, lightning, water damage, wind and hail, theft, and bodily injury.
Recommended Ohio Insurance Adjuster Training Courses, Study Guides, And Exam Prep Materials
AB Training Center provides training classes, study guides, and exam prep materials for becoming an insurance adjuster in Ohio. Simply select from the recommended courses below, or search under "Licensing" in the search box thereafter for "Insurance-Adjusters".
Also Available: Xactimate Training Courses
We also have courses to help you familiarize yourself with Xactimate software. If you aren't familiar with Xactimate already, you'll know all about it once you start working as an adjuster. This is critical claims estimating software and we can show you how to use it the right way.
Recommended Training Courses:
Online Training Courses
Webinars Or Audio Conferences
Find Seminars, Webinars, And Online Training In Your Area
Licensing Info For How To Become An Ohio Adjuster
Below is information on the licensing requirements for becoming an Ohio Insurance Adjuster, its insurance department, and examination scheduling facilities.
License Requirements For Ohio Adjusters
To sell insurance in Ohio, applicants must:
Applicant must be eighteen (18) years old or older as determined from the applicant's date of birth
If applicant responds "yes" to one of the background questions please submit supporting documents electronically via NIPR's Attachments Warehouse. The documents may also be submitted to the state via mail, email, or fax
Applicant must not have any serious RIRS actions. Please contact the state if applicable
Must have active public insurance adjuster license in resident state
Provide proof of bond in the amount of at least $1,000, payable to the State of Ohio
Completion of the Electronic Individual PIA Supplemental form (INS3216) found on the Department's website containing a notary section and the Ohio Specific Bond form
Provide a copy of the form that will be used as the contract in Ohio
Pass an appropriate Ohio public insurance adjuster examination; unless granted waiver per ORC section 3951.09
Re Adjuster Licensing
The state of Ohio only requires a license to become a public adjuster. Ohio residents interested in independent catastrophe adjusting should consider obtaining a non-resident Texas or Florida adjuster license. Catastrophe adjusters go from state-to-state adjusting claims. They earn a license in a specific state, like Florida or Texas, that is understood as their home state for the license. This license entitles them to practice in another state.
If you earn a Texas or Florida all-lines adjuster license, you increase your chance of impressing potential employers. You should also consider becoming an expert in Xactimate, the software used by most insurance claims adjusters.
Contact Info For Your Ohio Claims Adjuster Licensing Exam
To help with your examination scheduling, we have provided below information on Ohio licensing requirements, its insurance department, and examination scheduling facilities.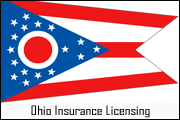 Ohio Department of InsuranceAddress:
50 W. Town street | Third Floor - Suite 300 | Columbus, OH 43215
Phone:
614.644.2665
Fax:
614.644.3475
Email:
licensing@ins.state.oh.us
Website:
http://www.insurance.ohio.gov/Agent/Pages/ResidentAgent.aspx
Examination SchedulingProvider:
Prometric
Phone:
877-346-4014
Website:
http://www.prometric.com/Ohio/Insurance.htm
Good luck passing your Claims Adjuster insurance licensing exam!
Other Insurance Licensing Courses For Ohio:
Good luck passing your Ohio Claims Adjuster insurance licensing exam!
Disclaimer
This information is based on state laws and regulations, and is subject to change. ABTrainingCenter makes every effort to make sure this information is current and accurate, however, ABTrainingCenter is not engaged in rendering legal or professional advice and shall not be held responsible for inaccuracies contained herein.