Wisconsin Insurance Licensing Requirements
How To Earn A Wisconsin Insurance License By Using Our Pre-Licensing Courses And Exam Prep Materials
Searching to learn more about Insurance Certification Testing in Wisconsin or state-approved Wisconsin Insurance License courses? Then you've come to the right place!
ABTrainingCenter.com offers state-approved courses for Insurance Certification Testing in Wisconsin for those individuals who are interested in becoming a Wisconsin Life Insurance Agent or earning some other type of Wisconsin Insurance License.
Below are links for our best-selling Wisconsin Life & Health, Property & Casualty, or Adjuster insurance licensing courses, as well as information and links for you to read about specific requirements for each license type.
Wisconsin Insurance Licensing Requirements
Below are some of the requirements for insurance licensing in Wisconsin. We've also included information on its insurance department and examination scheduling facilities.
General Requirements
Candidate must be at least 18 years of age
Complete the required pre-licensing education hours for each insurance line plus an additional 8 hours of general Wisconsin insurance laws and ethics
Wisconsin insurance law requires resident agents submit fingerprints as part of the application process
Life & Health Insurance Licensing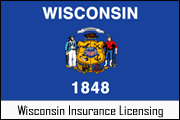 Life: 12 hours of pre-licensing
Health: 12 hours of pre-licensing
Pre-licensing can be done via a classroom, online, or self-study course
8 hours of required general Wisconsin insurance laws and ethics are included in all packages
Property & Casualty Insurance Licensing
Property: 12 hours of pre-licensing
Casualty: 12 hours of pre-licensing
Pre-licensing hours can be completed via a classroom, online, or self-study course
8 hours of required general Wisconsin insurance laws and ethics are included in all packages
Adjuster LicensingWorkers' Compensation Licensing And/Or Certification
Recommended Insurance Pre-Licensing Courses For Wisconsin Life, Health, P&C, And Adjuster Licensing
To find Wisconsin insurance licensing courses, study guides, practice exams, and exam prep materials, simply click on any of the recommended courses below or select your desired license type and your state from the "Licensing" section of the search box below. Good luck becoming an Wisconsin insurance agent!
About Our Wisconsin Pre-Licensing Courses And Exam Prep Materials
We offer Wisconsin prelicense training courses that fulfill Wisconsin's prelicense education requirements. Courses are available in seminar, online, and self-study formats. Our Wisconsin exam prep materials are delivered in an easy-to-understand manner that provides important insights and valuable exam tips and strategies covering Wisconsin's rules and regulations for insurance licensing. You receive:
Both print and online tools that include a comprehensive textbook utilizing short, focused paragraphs with numerous graphics and exercises to help students learn faster and retain critical information
A searchable FAQs database
Exam Tips, Study Calendar, and hundreds of practice exam questions
State Law Supplement that provides the most current state laws and regulations
Videos that can be viewed anytime, anywhere, and as frequently as you like
Instructor email access for help with any tough areas
Use our Wisconsin exam prep materials to test yourself with practice questions and solutions, pinpoint problem areas by building customized exams based on difficulty, length, and topic of your choice, and create online personal notes and bookmarks for future reference.
Contact Info: Wisconsin Insurance Licensing Department And Exam Testing
To help with your examination scheduling, we have provided below information on Wisconsin licensing requirements, its insurance department, and examination scheduling facilities.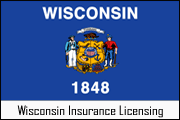 Wisconsin Office of Commissioner of Insurance - Agent Licensing SectionAddress:
P.O. Box 7872 | Madison, WI 53707-7872
Phone:
608.266.8699
Fax:
608.267.9451
Email:
agentlicensing@oci.state.wi.us
Website:
http://oci.wi.gov
Examination SchedulingProvider:
Prometric
Phone:
1.866.664.9505
Website:
https://www.prometric.com/en-us/clients/insurance/Pages/wisconsin.aspx
Good luck passing your Wisconsin P&C insurance licensing exam!
Other Insurance Licensing Courses For Wisconsin:
Disclaimer
This information is based on state laws and regulations, and is subject to change. ABTrainingCenter makes every effort to make sure this information is current and accurate, however, ABTrainingCenter is not engaged in rendering legal or professional advice and shall not be held responsible for inaccuracies contained herein.