Wisconsin Insurance Adjuster Training & Exam Prep Classes
Best-Selling Training Courses:
Online Training Courses
Instructor-Led: Webinars
How To Become A Claims Adjuster In Wisconsin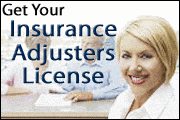 An insurance claims adjuster is an exciting and essential part of the insurance industry. Claims adjusters investigate an incident, talk to any witnesses, perform research, and decide if a claim is legitimate. They determine how much the insurance company might be liable to pay. By becoming an insurance claims adjuster, you can start a career as a vital part of any insurance company's team.
How To Train To Become An Insurance Claims Adjuster In Wisconsin
To learn the trade and get hired as an adjuster in Wisconsin, we recommend that you receive the necessary training. One option is to earn an independent adjuster license from a state that specializes in Designated Home State insurance adjuster licenses (typically Florida or Texas). Wisconsin does not have a licensing requirement, but insurance companies want to know that you know what you are doing, so you should take a licensing exam from Florida or Texas.
If you are interested in taking the DHS licensing exam in Texas or Florida, Agent Broker Training Center has the courses and study materials you need to maximize your chance of passing. You can find them below by clicking on the appropriate links.
Steps For Becoming A Claims Adjuster In Wisconsin
Wisconsin does not require a license to work as a resident claims adjuster, meaning, unlike in most states, that there is no required claims adjuster exam. That said, most insurance companies prefer to hire some with training or experience, so we recommend taking one of the "Designated Home State" courses below. To improve your chances of landing this position in Wisconsin, here's a few tips:
Earn A Designated Home State License
For residents of states that don't license adjusters, states like TX and FL allow non-residents to take an adjuster exam that they can use to designate as their "home state" when it comes to adjusting. See the links below for details on these courses
Learn Xactimate
This is the number one claims adjustment software program that all the best adjusters use. Becoming an expert in the insurance adjuster software program Xactimate may also increase your appeal to potential employers. If you know Xactimate well, you will have an advantage over others applying for the same job.
Enroll In An Agent Broker Training Center Adjuster Licensing Course
We have courses to help you learn Xactimate as well as prepare you for either the Florida or Texas all-lines adjuster licensing exam. Click the links below to register for your courses and maximize your New Jersey insurance adjuster opportunities!
Recommended Wisconsin Insurance Adjuster Licensing Courses, Study Guides, And Exam Prep Materials
AB Training Center provides approved Wisconsin Adjuster training classes, study guides, and exam prep materials needed to obtain your Wisconsin Insurance Adjuster license. We have everything you need to prepare yourself for the Wisconsin Claims Adjuster exam. Simply select from the recommended courses below, or search under "Licensing" in the search box thereafter for "Insurance-Adjusters". Good luck passing your Wisconsin Claims Adjuster insurance licensing exam!
Also Available: Xactimate Training Courses
We also have courses to help you familiarize yourself with Xactimate software. If you aren't familiar with Xactimate already, you'll know all about it once you start working as an adjuster. This is critical claims estimating software and we can show you how to use it the right way.
Best-Selling Training Courses:
Online Training Courses
Instructor-Led: Webinars
Find Seminars, Webinars, And Online Training In Your Area
How Do I Become A Claims Adjuster In Wisconsin?
To help with your examination scheduling, we have provided below information on Wisconsin's insurance department and examination scheduling facilities.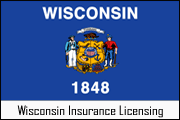 Wisconsin Office of Commissioner of Insurance - Agent Licensing SectionAddress:
P.O. Box 7872 | Madison, WI 53707-7872
Phone:
608.266.8699
Fax:
608.267.9451
Email:
agentlicensing@oci.state.wi.us
Website:
http://oci.wi.gov
Examination SchedulingProvider:
Prometric
Phone:
1.866.664.9505
Website:
https://www.prometric.com/en-us/clients/insurance/Pages/wisconsin.aspx
Good luck passing your Claims Adjuster insurance licensing exam!
Other Insurance Licensing Courses For Wisconsin:
Disclaimer
This information is based on state laws and regulations, and is subject to change. ABTrainingCenter makes every effort to make sure this information is current and accurate, however, ABTrainingCenter is not engaged in rendering legal or professional advice and shall not be held responsible for inaccuracies contained herein.