North Carolina Insurance License
North Carolina Insurance License Pre-Licensing Courses And Exam Prep Materials
Searching for insurance licensing courses in North Carolina to earn your North Carolina Insurance License? Want to learn more about becoming an insurance agent in North Carolina? Then you've come to the right place!
ABTrainingCenter.com offers state-approved insurance licensing courses in North Carolina for those individuals who are interested in becoming an Insurance Agent to sell insurance to groups or individuals in Charlotte, Raleigh, Greensboro, Durham, Winston-Salem, Fayetteville, Cary, Wilmington, High Point, Greenville, and other cities in North Carolina.
What Do Insurance Agents In North Carolina Do?
What Does A North Carolina Life And Health Agent Do?
A Life And Health (L&H) Insurance Agent (in some states, also known as "Life, Health, And Accident) sells Life, Disability, Long Term Care, Medicare, and other policies to groups and individuals. As a Life & Health Agent, you advise clients on what policies best suit their needs, tailor policies to fit their requirements, and help customers when they have questions or file a claim.
What Does A North Carolina Property And Casualty Agent Do?
A Property And Casualty (P&C) Insurance Agent sells policies on homes, apartments, vehicles, and other items that cover liability for property damage or injuries to visitors injured on your property. As a P&C Agent, you advise clients on what policies best suit their needs, tailor policies to fit their requirements, and help customers when they file a claim.
What Does A North Carolina Insurance Adjuster Do?
An Adjuster inspects property damage or personal injury claims to determine how much the insurance company should pay for the loss. They might inspect a home, a business, or a vehicle, then analyze the situation, talk to witnesses, do research and otherwise investigate to make sure the claim is legitimate and the claimant gets a settlement that is fair based on the parameters of their policy.
What Are The Requirements For Becoming A North Carolina Insurance Agent?
Generally speaking, to become a licensed insurance agent in your state you must first meet any state requirements such as age, passing a background check, etc. You then must take any state-required pre-licensing courses and pass your state's licensing exam to be licensed and able to sell insurance in your state. For specific requirements, please see the information at the bottom of this page.
About Our North Carolina Insurance Licensing Courses And Exam Prep Materials
Your career as an insurance agent starts with earning the right licenses. We can help you earn these licenses with our pre-licensing courses, study guides, and exam prep materials that are designed to help you pass your licensing exam and start your career as an Insurance Agent.
Our exam prep materials are delivered in an easy-to-understand manner that provides important insights and valuable exam tips and strategies covering your state's rules and regulations for insurance licensing. Here is just some of what you'll learn by using our pre-licensing courses and exam prep materials:
Downloadable/printable textbooks that utilizes short, focused paragraphs with numerous graphics and exercises to help you learn faster and retain critical information
OnDemand Online Video Review that can be viewed anytime, anywhere, and as frequently as you like
MP3 Audio Review
State law supplement
Tons of practice exam questions
Recommended Insurance Pre-Licensing Courses For North Carolina Life, Health, P&C, And Adjuster Licensing
At Agent Broker Training Center, we offer North Carolina-approved insurance license classes to meet pre-licensing requirements for life and health insurance and property and casualty insurance. We also provide North Carolina insurance adjuster courses to help you prepare for this career.
To find North Carolina insurance licensing courses, study guides, practice exams, and exam prep materials, simply click on any of the recommended courses below or select your desired license type and your state from the "Licensing" section of the search box below. Good luck becoming a North Carolina insurance agent!
Recommended Training Courses:
Below are links for our best-selling North Carolina Life & Health, Property & Casualty, or Adjuster insurance licensing courses, as well as information and links for you to read about specific requirements for each license type.

Recommended Course(s)
Online Training Courses
Find Seminars, Webinars, And Online Training In Your Area
North Carolina Licensing Requirements For Resident Agents
General Requirements
The general requirements for a North Carolina insurance producer include:
You must be at least 18 years of age to obtain an NC insurance producer license
You must have legal residence in the state of North Carolina
You will need to submit your fingerprints
You will need to pass the licensing examination according to the requirements of the state statute, including Prelicense Education requirements geared towards the line of authority you are practicing (see below)
You will need to file the online license application with nipr.com once you have completed the required coursework and prior to your state licensing examination
Your license application will be valid for six months, which is the amount of time you will have to complete all the requirements in order to receive your license
Additional Requirements for North Carolina Insurance Licenses
Depending on the type of insurance you'd like to study and some other factors, you may also need to meet the following additional requirements:
North Carolina Life Insurance License: For an North Carolina life insurance license, in addition to the Prelicensing examination, you will need 20 hours of Prelicense Education (PLE)
North Carolina Accident & Health and Sickness Insurance License: For your accident & health and sickness insurance license in North Carolina, you will need to complete 20 hours of PLE in this area, in addition to passing the relevant examination
North Carolina Life and Health Insurance License: To obtain a combined Life and Health insurance license, you must complete 40 hours of PLE in these lines of authority. You will receive a separate Exam Admission Ticket (see below) for life and health and must complete the required prelicensing exams successfully
North Carolina Property Insurance License: North Carolina property insurance license applicants must complete 20 hours of PLE in property insurance training and pass the prelicensing exam
North Carolina Casualty Insurance License: For both a North Carolina property and casualty insurance license, courses adding up to 20 hours of PLE are required
North Carolina Personal Lines Insurance: For a personal lines insurance license in North Carolina, you will need to complete 20 hours of personal lines PLE along with your examination requirements
PLE Completion Requirements: Upon successful completion of your 20-hour prelicensing course, as indicated by passage of the final exam with a score of at least 70 percent correct answers, you will receive an Exam Admission Ticket, which will be required to sit for the state licensing exam for any insurance line of authority you chose to pursue in North Carolina
North Carolina Medicare Supplement and Long-Term Care Training: If you are interested in being licensed for Medicare Supplement/Long-Term Care, you must hold an Accident & Health and Sickness license and complete 10 hours of relevant PLE
To sell long-term care products, you will need to complete an eight-hour one-time initial training and a four-hour ongoing training subsequently every 24 months
North Carolina Non-Resident Insurance License Information: If you have an active license in another state where you have held residency and are looking to move and transfer your license to North Carolina, you are not required to take any PLE or the license exam, as long as the license you're applying for is the same line of authority as the one you currently hold and you submit the application within 90 days of canceling your previous home state license. You must still submit the license application and fees.
North Carolina License Examination Procedure
Be sure to submit your license application and fees beforehand and have your Exam Admission Ticket for whichever line of authority you're testing for available. Your Exam Admission Ticket gives you five attempts at passing the exam in the 90-day period following course completion.
You will also need to submit your fingerprints but this can be done either before or after your state testing. Your license application cannot be finalized until you submit your fingerprints so it's best to do this before your testing so your application window doesn't expire.
Register for the course and show up at the designated time and location with your Exam Admission Ticket and two forms of identification. To receive your license, you will need a passing score of 70 percent or greater on the exam. If you achieve this, you will receive an e-mail within 48 to 72 hours on how to print your license.
To find the right state-approved course for you, simply select one of the recommended courses below. For additional options, you may search under "Licensing" in the search box below for your desired Insurance License, select 'North Carolina', and press 'Go!'
The Agent Broker Training Center can help you find all the insurance license courses you need to prepare for your North Carolina insurance prelicensing exams. We also have plenty of exam preparation materials to assist you. Just choose the subject and state of your choice below for directions on how to register for the courses in your area or how to purchase study materials.
Contact Info: North Carolina Insurance Licensing Requirements
To help with your examination scheduling, we have provided below information on North Carolina licensing requirements, its insurance department, and examination scheduling facilities.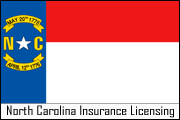 North Carolina Department of InsuranceAddress:
1204 Mail Service Center | Raleigh, NC 27699-1204
Phone:
919.807.6800
Fax:
919.715.3794
Website:
http://www.ncdoi.com
Examination SchedulingProvider:
Pearson VUE
Phone:
1.800.274.0668
Website:
http://www.asisvcs.com/indhome.asp?CPCAT=1234INS
Good luck passing your North Carolina P&C insurance licensing exam!
Other Insurance Licensing Courses For North Carolina:
Disclaimer
This information is based on state laws and regulations, and is subject to change. ABTrainingCenter makes every effort to make sure this information is current and accurate, however, ABTrainingCenter is not engaged in rendering legal or professional advice and shall not be held responsible for inaccuracies contained herein.