North Carolina Life & Health Insurance License Class & Exam Prep
How To Earn Your North Carolina Life & Health Insurance License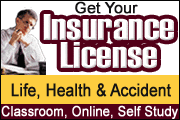 To sell life or health insurance in North Carolina, you need to be licensed, so if you are searching for North Carolina training courses to earn your North Carolina Life & Health insurance license, then you've come to the right place, as we offer pre-licensing courses, study guides, practice tests, and exam prep materials via self-paced online training courses to help you earn your North Carolina Life & Health insurance licenses.
What A Life And Health Insurance License In North Carolina Can Do For You
While there are many lines of insurance, life and health insurance are two staples that just about everybody needs. By becoming licensed to sell life and health insurance, you become the provider of a product that will always be in high demand in Charlotte, Raleigh, Greensboro, Durham, Winston-Salem, Fayetteville, Cary, Wilmington, High Point, Greenville, and other North Carolina cities.
What Does A North Carolina Life And Health Agent Do?
A Life And Health (L&H) Insurance Agent (in some states, also known as "Life, Health, And Accident) sells Life, Disability, Long Term Care, Medicare, and other policies to groups and individuals.
As a Life & Health Agent, you advise clients on what policies best suit their needs, tailor policies to fit their requirements, and help customers when they have questions or file a claim.
Ideally, the relationship with your clients will be a long-term one, so you should stay current on your customers' needs, including adding or lowering coverage levels as people age or acquire more wealth or have changing needs.
What Can You Do With A Life And Health License?
Earning a life and health insurance license permits you to sell life and/or health insurance in the state(s) in which your are licensed (insurance licensing is state specific, so you generally need a license from each state for each type of insurance line you want to sell in that state).
What Are The Requirements For Becoming A Life and Health Insurance Agent?
Licensing requirements vary from state to state, so ABTrainingCenter offers insurance pre-licensing courses for each state.
In all cases, our programs typically contain not only great training material, but numerous practice exams to help you pass your Life & Health or Property & Casualty insurance license exam on the first try! Here is just some of the exam prep materials that you receive:
A downloadable textbook that includes information on North Carolina insurance laws
Class Notes and Audio Review
OnDemand Online Video Review that can be viewed as frequently as you like
Loads of practice exam questions
Below are links for our best-selling North Carolina Life & Health insurance licensing courses, as well as information and links for you to read about specific requirements for earning your license.
Recommended Insurance Pre-Licensing Courses For North Carolina Life, Health, And Accident Licensing
To find North Carolina insurance licensing courses, study guides, practice exams, and exam prep materials, simply click on any of the recommended courses below or select your desired license type and your state from the "Licensing" section of the search box below. Good luck becoming a North Carolina insurance agent!
Find Seminars, Webinars, And Online Training In Your Area
How To Become A Life & Health Insurance Agent In North Carolina
Below is information on the licensing requirements for becoming a North Carolina Life & Health Insurance Agent, its insurance department, test requirements, and examination scheduling facilities.
Life And Health Pre-Licensing Requirements For North Carolina Resident Agents
In North Carolina, you must meet pre-licensing requirements before taking the exam. For either life insurance or health insurance, you will have to put in 20 hours of study with a state-approved pre-licensing course. For the combined life, accident and health exam, you will be required to log 40 hours of approved pre-licensing study.
Fortunately, Agent Broker Training Center has the state-approved courses you need to fulfill these requirements. At the end, we will administer a certification exam to prove that you have completed your course of study.
About The North Carolina Life And Health Insurance Exam
As soon as you receive your certificate of completion, you should apply for your exam. You only have 90 days to take the exam after you complete pre-licensing. Go to NIPR online to fill out your application. After you complete the application, Pearson VUE will send you a National Producer Number in an authorization email.
You will also get an email link to the Fingerprint Submission Packet Releases Form. Take this to your local law enforcement office to get fingerprinted and submit to a background check. You can then contact Pearson VUE to schedule your exam, which requires a fee.
At the testing site, bring your certificate of completion, two forms of valid government-issued I.D., including a photo I.D. as well as any other paperwork or information requested in your authorization email.
The life insurance exam and accident and health insurance exam are each 60 multiple-choice questions, five of which are pre-test questions. You have 75 minutes to complete each exam. You need to answer 70 percent or more questions correctly to pass. Assuming all your paperwork is properly submitted, you will get an email with a printable license in the next 48 to 72 hours.
Tips For Studying For Your Life And Health Insurance License Exam
The following tips for studying for your Life and Health Insurance License exam should help you pass your exam on the first try.
Step 1: Make A Commitment - And Stick To It
Whether you plan to study full- or part-time, start by taking a few minutes to plan how study process. Will you spend an hour every evening? Spend all day every Tuesday? Have a mentor work with you? Regardless of what you plan, make sure you stick to it.
Step 2: Develop A Study Plan
Once you commit to when and how long you will study, plan on
how
to do it. Most students say they need 40 or more hours to feel prepared. Typically, they split the majority of their time between reading the textbooks or study materials and taking practice exams, so plan accordingly, but double-check your progress periodically and make adjustments as needed.
Step 3: Know The Format Of The Exam
The format of most state insurance exams is a timed, proctored, multiple choice test, typically consisting of 180 or more questions (the actual length and number of questions on your exam will depend on the state in which you are testing).
Step 4: Practice, Practice, And Practice Some More!
Whether you take one of our in-person, online, or self-study pre-licensing courses, all come with many sample exam questions. You can even build customized exams based on difficulty, length, and topic of your choice. As you'd probably guess, we suggest you take as many of these sample exams as possible so that you are fully prepared to pass your exam on the first time.
Contact Info: North Carolina Insurance Licensing Requirements
To help with your examination scheduling, we have provided below information on North Carolina licensing requirements, its insurance department, and examination scheduling facilities.

North Carolina Department of InsuranceAddress:
1204 Mail Service Center | Raleigh, NC 27699-1204
Phone:
919.807.6800
Fax:
919.715.3794
Website:
http://www.ncdoi.com
Examination SchedulingProvider:
Pearson VUE
Phone:
1.800.274.0668
Website:
http://www.asisvcs.com/indhome.asp?CPCAT=1234INS
Good luck passing your North Carolina Life & Health insurance licensing exam!
Other Insurance Licensing Courses For North Carolina:
Disclaimer
This information is based on state laws and regulations, and is subject to change. ABTrainingCenter makes every effort to make sure this information is current and accurate, however, ABTrainingCenter is not engaged in rendering legal or professional advice and shall not be held responsible for inaccuracies contained herein.