Oklahoma P&C Insurance License Class & Exam Prep Materials
Best-Selling Training Courses:
Instructor-Led: Webinars
Online Training Courses
Property And Casualty Insurance Courses In Oklahoma
About The Oklahoma Insurance License For Property And Casualty
To sell property and casualty insurance in Oklahoma, you must have the proper license. Your first step is to learn the necessary information to pass the Oklahoma property and casualty licensing exam. ABTrainingCenter.com can help, with courses and study materials specifically designed to get you comfortable with your insurance licensing exams. Find out all you need to know about preparing for the exam below.
How A Property And Casualty License In Oklahoma Can Benefit You
Anyone who owns a home or land in Oklahoma needs to protect it with a dependable property and casualty insurance policy. Once you earn your property and casualty insurance license, you will have the first tool you need to build a successful insurance practice.
Oklahoma P&C License Courses With Agent Broker Training Center
Before you can take the exam, you have to be prepared. That's where Agent Broker Training Center comes in. We have spent years developing courses and study materials that incorporate how the Oklahoma property and casualty insurance licensing exam will look and what kind of material you can expect to see on it. This is the best and most efficient way to prepare for your licensing exam.
Recommended Oklahoma P&C Insurance Licensing Courses And Exam Prep Materials
To find Oklahoma property and casualty insurance licensing courses, simply click on any of the recommended courses below or select "Property And Casualty" and your state from the "Licensing" section of the search box below. Good luck passing your Oklahoma P&C insurance licensing exam and becoming a Oklahoma insurance agent!
Best-Selling Training Courses:
Instructor-Led: Webinars
Online Training Courses
Find Seminars, Webinars, And Online Training In Your Area
How To Become A Oklahoma Property And Casualty Insurance Agent

P&C Pre-License Requirements For Oklahoma Resident Agents
Oklahoma does not require you to take pre-licensing courses in order to sit for the property and casualty licensing exam. As a result, it may be tempting to take the exam before you are ready. We strongly recommend you take the appropriate Agent Broker Training Center courses and put in the recommended hours of study time for the best chance of passing the exam on the first try.
Oklahoma Property And Casualty Exam Requirements
When you are ready to take the Oklahoma property and casualty exam, schedule your exam online with Prometric for a $45 fee.
The exam is computer-administered and multiple choice. There are 150 questions and you have two and a half hours to complete it. You will find out whether or not you have passed as soon as you finish. If you pass, contact the Oklahoma Insurance Department online or at 405-521-3916 to apply for your license.
Contact Info: Oklahoma Property And Casualty License Requirements
To help with your examination scheduling, we have provided below information on Oklahoma licensing requirements, its insurance department, and examination scheduling facilities.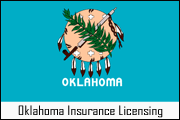 Oklahoma Department of Insurance - Licensing DivisionAddress:
P.O. Box 53408 | Oklahoma City, OK 73152-3408
Phone:
405.521.3916
Fax:
405.522.3642
Website:
https://www.ok.gov/oid/Licensing_and_Education/index.html
Examination SchedulingProvider:
Prometric
Phone:
800-341-3257
Website:
http://www.prometric.com
Good luck passing your Oklahoma P&C insurance licensing exam!
Other Insurance Licensing Courses For Oklahoma:
Disclaimer
This information is based on state laws and regulations, and is subject to change. ABTrainingCenter makes every effort to make sure this information is current and accurate, however, ABTrainingCenter is not engaged in rendering legal or professional advice and shall not be held responsible for inaccuracies contained herein.