California P&C Insurance Licensing Classes & Exam Prep Materials
Best-Selling Training Courses:
Instructor-Led: Webinars
Online Training Courses
Property And Casualty Insurance Courses In California
About California Pre-Licensing Courses For A Property And Casualty Insurance License
If you want to be an insurance broker, the first step is to make sure you are properly licensed. To become licensed for property or casualty insurance in California, turn to the courses at ABTrainingCenter.com.
Here's a look at everything you need to know about pre-licensing and licensing requirements for the California Property and Casualty Insurance license, along with state-approved courses you can take to meet those requirements.
What A Property And Casualty License In California Can Do For You
According to recent statistics, there were more than 28,000 claims for residential personal property and more than 1,000 claims for commercial property totaling more than $1.8 billion for the last year in cities such as San Francisco, San Jose, Los Angeles, San Diego, Fresno, Sacramento, and Oakland. As you can see, anyone who owns real estate needs property and casualty insurance to protect themselves and their belongings.
To sell property and casualty insurance in California and provide the kinds of policies people need, you need to take a California pre-licensing course and then pass the state's licensing exam to become a property and casualty insurance agent and earn the opportunity to earn their business.
About Our California Property And Casualty Exam Prep Materials
We offer California property and casualty license training courses that fulfill California pre-license education requirements. Courses are available in seminar and online formats to meet your study needs. You also receive exam prep materials that are delivered in a concise and easy-to-understand manner, providimg important topical insight and valuable exam tips and strategies that cover the required rules and regulations specific to your state.
Bottom line, you receive a unique combination of instructional resources and interactive support tools designed to help you pass your property and casualty exam. You typically receive:
Both print and online tools
A comprehensive textbook that utilizes short, focused paragraphs with numerous graphics and exercises to help students learn faster and retain critical information
Exam Tips
State Law Supplement that provides the most current state laws and regulations
Instructor Email Access
Hundreds of practice exam questions
Use our property and casualty exam prep materials to test yourself with practice questions and solutions, pinpoint problem areas by building customized exams based on difficulty, length, and topic of your choice, and create online personal notes and bookmarks for future reference.
Recommended California P&C Insurance Licensing Courses And Exam Prep Materials
Our courses are designed to help you meet your pre-licensing requirements and fully prepare you for the actual licensing exam. To find California property and casualty insurance licensing courses, simply click on any of the recommended courses below or select "Property And Casualty" and your state from the "Licensing" section of the search box below. Register for the courses you need and get started today! Good luck passing your California P&C insurance licensing exam and becoming a California insurance agent!
Best-Selling Training Courses:
Instructor-Led: Webinars
Online Training Courses
Top FAQs
How Do I Become A P&C Insurance Agent In California?
You must take your state-required pre-licensing course, then pass your state's licensing exam. After passing your exam, you typically must meet any basic state requirements such as a minimum age, passing a background check, etc.
What Is An Independent Agent?

If you work for a firm like AllState, you sell their produsts only. As an Independent Agent, you can sell products from several companies.
How Is An Independent Agent Compensated?

Independent Insurance Agents typically earn commissions for selling various insurance products.
How Long Does It Take To Complete My California Insurance Licensing Course?

In California, it takes 40 hours to complete your state's required pre-licening course.
What Is On The California P&C Licensing Exam?

The exam will cover both a general section with basic insurance product knowledge and a state section with specific insurance laws, rules, regulations, and practices that are unique to California.
How many questions are on the California P&C licensing exam?

The property and casualty exam is 3 hours with 150 questions
What Is The Pass Rate On Your California P&C licensing exam?

Statewide for all exam takers, 54.8%, but with our courses, 97%.
How Much Does It Cost To Get A P&C License In California?

The licensing exam fee is $55, fingerprinting is $59-$69 and the license application fee is $188.
What Type Of Courses Do You Offer For Earning My California Insurance License?

We offer online and Instructor-led courses for taking your state's required pre-licensing course and earning your Californiainsurance license.
How To Become A California Property And Casualty Insurance Agent
P&C Pre-License Requirements For California Resident Agents
California has several pre-licensing requirements before you can sit for the California property and casualty licensing exam. If you are seeking a license in both property and casualty insurance, you will need to take 40 hours of approved pre-licensing courses, like what we offer at Agent Broker Training Center. In addition, you will need to take a 12-hour Ethics course.
California Property And Casualty Exam Requirements
The first step is to complete the required hours of pre-licensing coursework and pass a certification exam. Once you pass the certification exam, you will receive a certificate of completion.
The next step is to contact PSI Exams to schedule your test. Be aware that California requires a fingerprinting and background check. You can get fingerprinted at the testing site for a $68.95 fee.
Once you have been fingerprinted and produce your certificate of completion, you may sit for the exam. You will have to show a valid government-issued picture ID like a driver's license or passport before you can take the test.
The property licensing and casualty licensing exams are both 75 questions with 98 minutes to complete. A success rate of 60 percent or higher is considered passing.
If you pass, you will receive an acknowledgment letter. You can then visit the California state insurance website and fill out the application online. You will need to provide information from your letter to fill out the application. Good luck earning your California P&C license!
Contact Information - California Insurance Licensing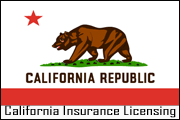 To help with your examination scheduling, we have provided below information on California licensing requirements, its insurance department, and examination scheduling facilities.
California Department of InsuranceAddress:
P.O. Box 1139 | Sacramento, CA 95812-1139
Phone:
800.967.9331
Fax:
916.327.6907
Email:
license.bureau@insurance.ca.gov
Website:
http://www.insurance.ca.gov
For Examination SchedulingProvider:
PSI Exams
Phone:
1.800.733.9267
Website:
https://candidate.psiexams.com/catalog/displayagencylicenses.jsp?catalogID=337
Other Insurance Licensing Courses For California:
Disclaimer
This information is based on state laws and regulations, and is subject to change. ABTrainingCenter makes every effort to make sure this information is current and accurate, however, ABTrainingCenter is not engaged in rendering legal or professional advice and shall not be held responsible for inaccuracies contained herein.