Idaho Property & Casualty Insurance License
Earn Your Idaho Property & Casualty Insurance License
Property and Casualty Idaho Insurance License Courses
If you have been putting off getting your property and casualty insurance license in Idaho because you weren't sure where to find the right training or how to begin, wait no longer. ABTrainingCenter.com has the training courses to give you all the knowledge you'll require to pass the Idaho property and casualty insurance licensing exam the first time around.
What An Idaho Property And Casualty Insurance License Can Do For You
If you are providing insurance in Idaho, the more products that you can offer to your potential customers, the better. Property and casualty policies can cover a tremendous amount of insurance needs in the community. By obtaining the property and casualty license, you make yourself more of an all-purpose insurance broker and have the opportunity to grow your business.
Idaho Property And Casualty Pre-License Requirements For Resident Agents
Each state has specific licensing, and in some cases pre-licensing, requirements for resident agents. In Idaho, pre-licensing courses are not a requirement. This may make it tempting to opt to take the exam without completing any preparatory courses. We do not recommend this, as it will be difficult for you to be sure you have studied widely and sufficiently enough to pass the exam without preparation.
However you choose to prepare for the exam, when you are ready to take it, you can register and get a test time by contacting PSI Services LLC. Be prepared to pay a $60 examination fee.
Idaho Property And Casualty Exam Requirements
You will need to complete the required paperwork before taking your exam, including getting fingerprinted, so show up 30 minutes before your scheduled test time. Bring two forms of identification that are current and include your signature, and make sure at least one is a photo I.D. Also, bring $70 to have your fingerprints processed.
The property insurance examination is 78 questions with two hours to complete. The casualty insurance examination is also a two-hour exam, with 80 multiple-choice questions. To pass, each portion requires a score of 70%. If you achieve 70% or greater, you can apply for your license at Sircon's website or the National Insurance Producer Registry. You must pay a licensing fee of $80.
Idaho P&C License Courses With Agent Broker Training Center
The best way to prepare for your P&C insurance licensing examination is by taking an AB Training Center prep course. This will give you a huge edge over people who try to take the exam without a preparatory course. The course is given online and comes with a wealth of materials to help you pass, including sample questions and practice tests that accurately simulate actual exam tests and questions.
You can learn at your own pace and refer to our printed materials to shore up areas where you may be weaker. Our courses are designed to make you feel totally comfortable about your ability to pass the exam when test day comes.
Recommended Idaho Property And Casualty Pre-License Insurance And Exam Prep Courses
When you choose to study for your Idaho property and casualty exam with prep courses from Agent Broker Training Center, you get the advantage of a solid but flexible structure for studying. We offer online training courses, live seminars, and self-study packages that include Idaho property and casualty exam prep materials so you can study your way to get the results you want.
To find Idaho P&C licensing courses, either click on a Recommended Course below, or select "Insurance - Property & Casualty" and your state from the "Licensing" section of the search box below. Good luck passing your Idaho Property And Casualty insurance licensing exam!
Recommended Training Courses:
Online Training Courses
Self-Study Materials
Find Seminars, Webinars, And Online Training In Your Area
Contact Info: Idaho Property And Casualty License Requirements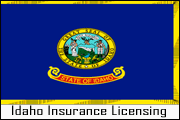 Idaho Department of Insurance - Licensing DivisionAddress:
700 W. State Street, 3rd Floor | P.O. Box 83720 | Boise, ID 83720-0043
Phone:
208.334.4250
Fax:
208.334.4398
Email:
agent@doi.idaho.gov
Website:
http://www.doi.idaho.gov
Examination SchedulingProvider:
Pearson VUE
Phone:
1.888.204.6218
Website:
http://www.asisvcs.com/indhome.asp?CPCAT=1213INS
Good luck passing your Idaho Property And Casualty insurance licensing exam!
Other Insurance Licensing Courses For Idaho:
Disclaimer
This information is based on state laws and regulations, and is subject to change. ABTrainingCenter makes every effort to make sure this information is current and accurate, however, ABTrainingCenter is not engaged in rendering legal or professional advice and shall not be held responsible for inaccuracies contained herein.