Montana P&C Insurance License Courses & Exam Prep Materials
Montana Property And Casualty Insurance License Courses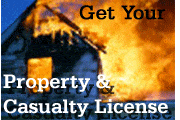 About The Montana Property And Casualty Insurance License
If you want to sell property or casualty insurance in Montana, you will need a specific license, just as you would with any other lines of insurance. If you are seeking information about property or casualty insurance licensing in Montana, you have come to the right place. You'll find all the information you need about Montana licensing here, as well as information on the right ABTrainingCenter.com courses to take to prepare for your Montana property and casualty insurance license exam.
Why Get A Montana Property And Casualty License
Next to protecting their health and families, most people prioritize protecting their major assets like homes and cars. To sell the kind of insurance these people need, you will want to obtain property and casualty insurance licenses.
If you sell insurance, it is in your best interest to be a full-service insurance provider. However, you can't do that without offering property and casualty insurance. Obtaining your license for this insurance type means you can provide your customers with more comprehensive services.
About Montana P&C License Courses With Agent Broker Training Center
To get your Montana property and casualty license, you will definitely want to take advantage of our services at Agent Broker Training Center. We have coursework and study materials prepared by insurance experts. These include practice questions that are based on what you can expect in the actual exam to maximize your ability to prepare. Simply click the link to your desired courses or materials below to get started.
Recommended Montana Property And Casualty Insurance Courses And Exam Prep Materials
To find Montana Life and Health insurance licensing courses and exam prep materials, simply click on any of the recommended courses below or select "Property & Casualty" and your state from the "Licensing" section of the search box below. Good luck passing your Montana P&C insurance licensing exam!
Recommended Training Courses:
Webinars Or Audio Conferences
Online Training Courses
Find Seminars, Webinars, And Online Training In Your Area
How To Become A Montana Property And Casualty Insurance Agent
Property And Casualty Prelicense Montana Requirements For Resident Agents
In Montana, you are not required to take any prelicensing courses to take the property or casualty license exam. Still, it is in your best interest to take a preparation course. Without it and the proper studying and preparation, you will likely not know what to expect on the exam. Fortunately, Agent Broker Training Center has the study materials and courses you require.
Montana Property And Casualty Exam Requirements
When you are ready, schedule your exam by going online and registering with Pearson VUE. There is a $59 examination fee required with registration.
Montana is one of the states that requires fingerprinting for a complete license application, too. Some testing centers may have fingerprinting on site, but to be safe, you can schedule digital fingerprinting online. This will require a $54 fingerprinting fee.
On the day of your exam, plan to arrive about a half hour in advance to sign in and verify your identity. Make sure you have two valid pieces of government-issued I.D. with your signature. The primary one must also have a photo.
The property insurance license exam in Montana is 99 questions that are multiple choice. You will have two hours to complete the exam. The casualty examination is 105 questions, and you have two hours to complete it. Both examinations require a score of at least 75 percent to pass.
You will know the results of your exam immediately upon completion. However, once you pass, you will have to wait up to 72 hours for the system to update to be able to apply for your license. You can do that online with the National Insurance Producer Registry.
Contact Info: Montana Property And Casualty License Requirements
To help with your examination scheduling, we have provided below information on Montana licensing requirements, its insurance department, and examination scheduling facilities.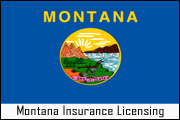 Montana Department of Insurance - Licensing DivisionAddress:
840 Helena Avenue | Licensing Division | Helena, MT 59601
Phone:
406.444.2040
Fax:
406.444.3497
Website:
https://csimt.gov/insurance/licensing
Examination SchedulingProvider:
Pearson VUE
Phone:
1.888.274.8906
Website:
http://www.asisvcs.com/indhome.asp?CPCAT=1227INS
Good luck passing your Montana P&C insurance licensing exam!
Other Insurance Licensing Courses For Montana:
Disclaimer
This information is based on state laws and regulations, and is subject to change. ABTrainingCenter makes every effort to make sure this information is current and accurate, however, ABTrainingCenter is not engaged in rendering legal or professional advice and shall not be held responsible for inaccuracies contained herein.