Vermont P&C Insurance License Class & Exam Prep Materials
Property And Casualty Insurance Courses In Vermont
About The Vermont Property And Casualty Insurance License
To sell property or casualty insurance in Vermont, you first have to earn your property and casualty insurance license. Ready to find out how? Start here at ABTrainingCenter.com. On this page, we'll tell you what the pre-licensing requirements are, what the exam is like and how to find P&C courses to prepare.
What A Property And Casualty Insurance License In Vermont Can Do For You
There are a few lines of insurance that almost everyone needs, and property and casualty insurance is at the top of the list. Once you earn your property and casualty insurance license, you can help Vermont residents protect their homes and property while you grow your business.
Recommended Vermont P&C Insurance Licensing Courses And Exam Prep Materials
At Agent Broker Training Center, you will find all the courses and materials you need to study effectively for the Vermont property and casualty insurance licensing exam. To find Vermont property and casualty insurance licensing courses, simply click on any of the recommended courses below or select "Property And Casualty" and your state from the "Licensing" section of the search box below. Good luck passing your Vermont P&C insurance licensing exam and becoming a Vermont insurance agent!
Recommended Training Courses:
Online Training Courses
Self-Study Materials
Find Seminars, Webinars, And Online Training In Your Area
How To Become A Vermont Property And Casualty Insurance Agent
Pre-License Requirements For Vermont Resident Agents For A Property And Casualty License
Vermont does not have any pre-licensing requirements for the property and casualty insurance licensing exam. You can take the test at any time, but that doesn't mean you should. You need to study and be fully prepared if you want to pass the exam on the first try.
Agent Broker Training Center can help, with easy-to-follow courses and comprehensive study materials designed to cover everything you might face on the licensing exam. You will find a list of useful courses in the links below.
Vermont Property And Casualty Exam Requirements
Once you have studied, register for the test with Prometric online or by phone at 1-800-868-6113. On test day, bring a driver's license, passport or other current, valid photo I.D. from a government agency.
If you are taking just the property or just the casualty line, your exam will be 100 multiple-choice questions. If you are taking both lines at once, there will be 150 questions and you will get two and a half hours. Get 70 percent or more correct, and you pass.
You will know your score shortly after you complete the exam in the form of a score report. If you pass, you can apply for your license. Wait 48 hours for your result to appear in the system, then go online to NIPR to complete your application.
Contact Info: Vermont Property And Casualty License Requirements
To help with your examination scheduling, we have provided below information on Vermont licensing requirements, its insurance department, and examination scheduling facilities.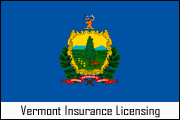 Vermont Department of Banking, Insurance, Securities & Health Care Administration - Licensing DivisionAddress:
89 Main Street, 2nd Floor | Montpelier, VT 05620-3101
Phone:
802.828.3303
Fax:
802.828.3306
Website:
https://dfr.vermont.gov/industry/insurance/producer-and-individual-licensing
Examination SchedulingProvider:
Prometric
Phone:
1.800.868.6113
Website:
http://www.prometric.com/Vermont/Insurance.htm
Good luck passing your Vermont P&C insurance licensing exam!
Other Insurance Licensing Courses For Vermont:
Disclaimer
This information is based on state laws and regulations, and is subject to change. ABTrainingCenter makes every effort to make sure this information is current and accurate, however, ABTrainingCenter is not engaged in rendering legal or professional advice and shall not be held responsible for inaccuracies contained herein.