Nebraska P&C Insurance Licensing Courses & Exam Prep Materials
Best-Selling Training Courses:
Instructor-Led: Webinars
Online Training Courses
Property And Casualty Nebraska Insurance License Courses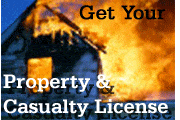 About The Nebraska Property And Casualty Insurance License
If you are considering selling property or casualty insurance in Nebraska, you will want to make sure you have the proper licenses. Here is a look at all the information you need about obtaining a Nebraska property and casualty insurance license, including what prelicensing requirements there are and how to prepare for your licensing exam with ABTrainingCenter.com.
What A Property And Casualty License In Nebraska Can Do For You
People put great value on their property and possessions in Nebraska. They have worked hard to earn them and work hard to maintain them. Many will be looking for the best way to protect that property and will need a qualified, licensed insurance broker to help. When you have a property and casualty license in Nebraska, you can be that broker. Being able to provide these lines of insurance to your Nebraska neighbors can present a great opportunity to expand and enhance your business.
Nebraska P&C License Courses With Agent Broker Training Center
Trying to study for the property or casualty license exam on your own without any guidance could leave serious gaps in your education. Our online courses and study materials are comprehensive and designed with the test you are about to take in mind. If you put in enough study hours with our materials, you have a great chance of passing the exam on your first try. Simply click the link below that corresponds to your preferred study method and topic to begin.
Recommended Nebraska Property And Casualty Insurance Courses And Exam Prep Materials
To find Nebraska Life and Health insurance licensing courses and exam prep materials, simply click on any of the recommended courses below or select "Property & Casualty" and your state from the "Licensing" section of the search box below. Good luck passing your Nebraska P&C insurance licensing exam!
Best-Selling Training Courses:
Instructor-Led: Webinars
Online Training Courses
How To Become A Nebraska Property And Casualty Insurance Agent
Property And Casualty Prelicense Nebraska Requirements For Resident Agents
Prelicensing is a common requirement for people seeking insurance licenses in the U.S., but not in Nebraska. You can schedule and sit for your Nebraska property and casualty licensing exam at any time.
However, we recommend you take the opportunity to use Agent Broker Training Services first, either our online property and casualty prep exam or our self-study materials. Without any prelicensing requirements to guide you, it may be very difficult to know if you are studying for your exam the right way. We have years of experience designing courses specifically geared toward helping people pass insurance exams on the first try. You can find the courses or materials you need in the links above.
Nebraska Property And Casualty Exam Requirements
After you have taken your course or put in enough study hours to feel that you have mastered the material, contact Prometric to schedule your exam. There will be a $64 examination fee if you are planning to take the combined lines exam or $57 if you are taking just the property or just the casualty exam. On the day of your exam, you will need to bring a valid government-issued photo I.D., such as a driver's license.
The individual property or casualty exam is a 100-question multiple-choice test. You have two hours to finish and need to score at least 70 percent to pass. The combined property and casualty exam is 150 questions. You will have two and a half hours to complete it and must get at least a 70 percent to pass.
You will see your results on the screen immediately. Once you pass, you can then apply for your license with the National Insurance Producer Registry.
Contact Info: Nebraska Property And Casualty License Requirements
To help with your examination scheduling, we have provided below information on Nebraska licensing requirements, its insurance department, and examination scheduling facilities.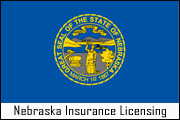 Nebraska Department of Insurance - Licensing DivisionAddress:
Terminal Building | 941 O Street, Suite 400 | Lincoln, NE 68508-3639
Phone:
402.471.4913
Fax:
402.471.6559
Email:
licensing@doi.state.ne.us
Website:
http://www.doi.ne.gov
Examination SchedulingProvider:
Prometric
Phone:
1.800.853.4753
Website:
http://www.prometric.com/Nebraska/Insurance.htm
Good luck passing your Nebraska P&C insurance licensing exam!
Other Insurance Licensing Courses For Nebraska:
Disclaimer
This information is based on state laws and regulations, and is subject to change. ABTrainingCenter makes every effort to make sure this information is current and accurate, however, ABTrainingCenter is not engaged in rendering legal or professional advice and shall not be held responsible for inaccuracies contained herein.